People who murder disabled or transgender people in hate crime attacks will face life sentences with a starting point of 30 years.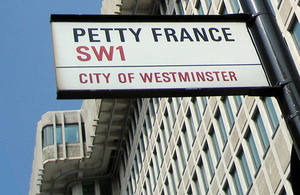 The Ministry of Justice plans to amend the Criminal Justice Act 2003 so that murders motivated by hatred or hostility towards disabled or transgender victims will have the same starting point as for murders aggravated by race, religion and sexual orientation. This will double the current starting point for disability and transgender hate crime murders.
The Act will also be updated so that where any offence is shown to be motivated by hostility towards the victim on the grounds of transgender, as well as race, religion, sexual orientation, and disability, sentences must be made more severe. This will mean all five monitored strands of hate crime will be reflected equally in these provisions.  
Mr Clarke said:
'Hate crimes are abhorrent, they leave sections of society living in fear and at risk of unprovoked violence. The courts already treat all hate crime seriously and aggravate sentences accordingly. These proposals make clear offenders should be in no doubt that they face a more severe sentence for these unacceptable crimes.'
The announcement has been made alongside the publication of the Government's Transgender Action Plan today.
Equalities Minister Lynne Featherstone said:
'There is no excuse for any form of hate crime and that is why we are strengthening the law to protect all those at particular risk of unprovoked violence.
'These plans send out a strong message to victims and perpetrators. Hate crimes against transgender and disabled people will be treated seriously and offenders will face the full force of the law.'
The changes will be made as part of the Legal Aid, Sentencing and Punishment of Offenders (LASPO) Bill currently progressing through Parliament. Amendments covering the new changes will be brought forward at Lords Committee stage.
Notes to editors
Details about the Legal Aid, Sentencing and Punishment of Offenders Bill
The proposals apply to Schedule 21 to the Criminal Justice Act 2003, which provides guidance on determining the minimum term under a life sentence for murder. It provides for various starting points before any further aggravating and mitigating factors are taken into account in reaching the final minimum term, or tariff.
Murders aggravated by hostility towards the victim on the grounds of disability or transgender currently have a starting point of 15 years, although there is no constraint on the court arriving at any minimum term from any starting point to arrive at the appropriate tariff.
The new starting point will be 30 years, in line with the existing level for murders motivated by hostility on the grounds of race, religion or sexual orientation.
The proposals also apply to section 146 of the 2003 Act, which provides for sentences to be made more severe for any offence where the offender was motivated by hostility towards the victim on the grounds of disability or sexual orientation. Section 145 makes similar provision in relation to offences aggravated by race and religion.
In addition to the legislation, sentencing guidelines provide for an aggravating factor in sentencing where the offence is motivated by hostility towards members of a minority group.
For more information, please call the Ministry of Justice press office on 020 3334 3536.
Published 8 December 2011