World news story
Harvest Global Investments to open fund management company in UK
Harvest Fund Management has decided to set up fund management company in London through its Hong Kong subsidiary Harvest Global Investments.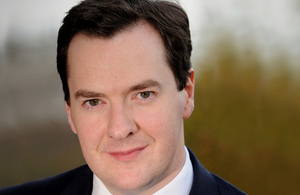 This decision was announced by Chancellor of the Exchequer, George Osborne, at the UK-China Economic and Financial Dialogue, which took place in London on 12 September. The Chancellor said:
I am pleased to welcome the decision by Harvest Fund Management, one of China's oldest and largest fund managers, to apply to set up a fund management company in London
Harvest's application to open this office - which is subject to Financial Conduct Authority's approval - represents the first Chinese-parent fund company to choose London as a base outside of China and Hong Kong. Harvest CEO Peng Choy, sees huge potential for European investors looking to access RMB investment opportunities:
Having successfully established our first offshore presence in Hong Kong since 2009, Harvest is continuing our global expansion. We see significant growth opportunities in Europe and London's importance as a global financial center is where we want to be.
The UK stands ready to welcome Harvest and other Chinese players, in order to cement London's position as the second global and Europe's foremost international centre for RMB.
Further information
For further details about the policy, trade and investment announcements made at the UK-China Economic and Financial Dialogue, please see UK-China 6th EFD: Factsheet and Policy Outcomes Paper
UK as RMB hub
the UK has further secured its position as the second global hub for offshore RMB this year
around 60 per cent of all trades conducted in RMB that take place outside of Greater China are made in London
according the Standard Chartered Renminbi Growth Index, London's share of the total global RMB offshore market stands at 15 per cent (up from 9 per cent in 2012)
this status was boosted at the UK-China Financial Forum on 18 June in London, where Premier Li Keqiang and Chancellor George Osborne announced:

the appointment of China Construction Bank as London's RMB clearing bank, the first outside Asia
direct trading between the pound and the Renminbi
the granting of UK RQFII licenses to HSBC Global and Blackrock
approval for RMB-denominated loan guarantees by the Government's export credit agency, UK Export Finance
Contacts
Contact the Hong Kong Investment Team or Economic Team if you are interested in investing in the UK financial services industry, or interested in the UK as an RMB hub.
Published 15 September 2014