"Hard-headed internationalism" is the future of our foreign policy
Prime Minister David Cameron has said that the Government's foreign policy will be one of "hard-headed internationalism" focused on advancing Britain's national interest.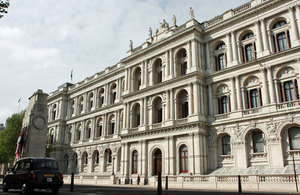 In the Prime Minister's annual foreign policy speech at the Lord Mayor's banquet on 15 November, he added that dealing with the deficit was vital to ensure that the UK carries its weight in the world.
But he rejected the theory that Britain's influence is in decline, arguing that it remains a great economic power and its political and military assets continue to make it a major player on the international stage.
Few countries in the world have the same combination of assets that the UK possesses, he told guests at the banquet, pointing to the UK's prominent position in NATO, the G20 and the UN Security Council as well as its global language, rich culture and cosmopolitan society.
The Prime Minister said:
"What I have seen in my first six months as Prime Minister is a Britain at the centre of all the big discussions. So I reject the thesis of decline. I firmly believe that this open, networked world plays to Britain's strengths."
Describing the future direction of foreign policy, he said:
"Pursuit of our national interest has been at the heart of everything I have said this evening. Our foreign policy is one of hard-headed internationalism. More commercial in enabling Britain to earn its way in the world once again, more strategic in its focus on meeting the new and emerging threats to our national security and firmly committed to upholding our values and defending Britain's moral authority even in the most difficult of circumstances.
"Above all, our foreign policy is more hard-headed in this respect: it will focus like a laser on defending and advancing Britain's national interest."
Published 16 November 2010