Press release
Happy holidays - Highways Agency removes roadworks for August bank holiday weekend
The Highways Agency will be helping holidaymakers have happy holidays by keeping traffic moving over the August bank holiday weekend, ensuring that 98 per cent of England's motorways and other major roads are free of roadworks.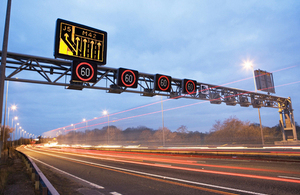 Around 164 miles of roadworks will be completed before the August bank holiday weekend and 110 miles will be suspended between Friday 22 August and Tuesday 26 August, providing extra lane capacity for holiday traffic (Click here to see a map showing the locations of lifted and suspended schemes)
Highways Agency, Director of Traffic Management, Simon Sheldon-Wilson, said:
This bank holiday weekend, over 98 per cent of motorways and major A-roads in England will be clear of roadworks. This will be a great help to people travelling during the holiday – with roadworks lifted, more lanes will be open and many of the associated speed restrictions will also be lifted.

To help road users, Highways Agency traffic officers and the police will work to clear up any incidents as soon as possible but we advise drivers to check weather and travel conditions before any long journey and make sure they have maintained their vehicles, including trailers and caravans before setting out.
To help its customers, roadworks at 73 locations will be completed before the bank holiday. A further 50 sets of roadworks and lane restrictions will be removed by 6am on Friday 22 August and will not be put back before 00:01 on Tuesday 26 August.
This year, the Agency is doing more work than ever to improve the condition of its network, reduce congestion and provide real long-term benefits for drivers. A record amount of money is being invested in Agency's roads, but this means there are more roadworks on the ground than before so drivers need to plan and allow sufficient time for their journeys. For the safety of drivers and their passengers, lane restrictions or temporary speed limits will need to remain in place at 49 locations. (Click here to see a map showing the location of remaining schemes)
Drivers can find out about the busiest routes in their region by looking at the Agency's website which shows the holiday hotspot routes over the August bank holiday period and the times they are expected to be busiest (Click here for holiday hotspot locations and times) and through Twitter. This will help them help them choose the best time to travel and plan their routes. Friday evening and Monday afternoon are expected to be the busiest periods over the bank holiday weekend, especially on the main holiday routes, as people set out and return from short breaks or day trips.
This will be the last bank holiday that drivers using the Dartford Crossing will stop at the crossing barriers to pay the charge. From October the way people pay the Dartford Crossing charge will change with the introduction of a new payment system called Dart Charge that will reduce congestion and ease traffic flow. Instead of stopping at the barriers to pay people will be able to pay in advance or by midnight the day after crossing. If you do not pay you will face a penalty. To find out more about Dart Charge, or to register for updates please visit the website.
General enquiries
Members of the public should contact the Highways Agency Information Line on 0300 123 5000.
Media enquiries
Journalists should contact the Highways Agency press office on 0844 693 1448 and use the menu to speak to the most appropriate press officer.
Published 18 August 2014