World news story
Handover of the Peacekeeping English Programme Centre
The British Embassy has now officially passed on the baton to the Senegalese Armed Forces personnel for the running of the Peacekeeping English Programme Centre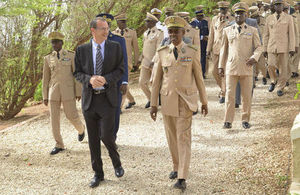 The Peacekeeping English Programme (PEP) which has been implemented by the British Council consists of three elements namely the development of an English language training facility; the development of a cadre of trained English language instructors to staff and manage the English Language Training facility and the training of the Senegalese Armed Forces (SAF) Personnel (Officer corps and Non-Commissioned Officers) and Military Observers operating in peacekeeping detachments.
The PEP's initial objective was to train a total of 680 personnel from across the SAF for three years thus ensuring an increased contribution to a deployable pool of personnel for peace support operations, including possible further deployments to the United Nations (UN), the African Union (AU) and the Economic Community of West African States (ECOWAS) missions. Improved English language skills will facilitate communication with English speaking contingents and increase their effectiveness when deployed in English speaking countries, including when interacting with local communities.
The British Embassy's overall objectives were as follows:
the development of a fully resourced training facility with two classrooms and an office in a suitable location to ensure Senegal's continued role and longer term participation in peace support operations. It is critical to the success of the project that the facilities are located in Dakar, close to the British Embassy, solely intended for ELT and of a high standard ;
a minimum of 680 trained SAF personnel (Officer Corps and NCOs) and Military Observers operating in peacekeeping detachments able to work and communicate in English; and
the development of a cadre of up to 15 trained English language instructors – a minimum of 3 in each training centre - to staff and manage the programme so that the SAF can maintain and develop the programme upon UK exit.
All these ojectives have been achieved and we will support the SAF where feasible, whilst they now retain overall leadership of the Centre.
Published 29 July 2015