Handing power back to the people of Milton Keynes
Milton Keynes residents will be given a much greater say over the future development of their town under new proposals published today by Housing…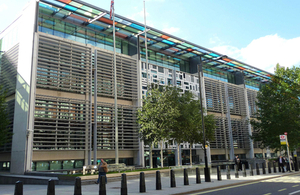 Milton Keynes residents will be given a much greater say over the future development of their town under new proposals published today by Housing Minister Mark Prisk.
Since its designation as a new town in 1967 Milton Keynes has been subject to central Government involvement either through the establishment of Development Corporations or, more recently, through the Milton Keynes Partnership Committee.
But under new plans published for consultation today, those planning functions currently undertaken by the Homes and Communities Agency would be transferred to Milton Keynes Council. This would allow Milton Keynes Council the opportunity to plan development more strategically in their area and also allow local residents a greater say in how that land is developed.
Housing Minister Mark Prisk said:
For years, development control of Milton Keynes has been split between the locally elected council and a Government agency. Today's proposals would shift power back to where it belongs - with the people who live in the area.

I look forward to hearing how Milton Keynes Council plans to work with local people to decide the future development of their town to secure its future for years to come.
Homes and Communities Agency Chief Executive Pat Ritchie said:
The Homes and Communities Agency has been working closely with colleagues at the Department for Communities and Local Government and Milton Keynes Council for many months to facilitate this transfer which has now taken a significant step forward.

It is a great example of central and local government working together to help achieve and deliver local ambition. We will continue to work together to finalise the process which will enable Milton Keynes Council to fulfil their plans for growth and continue the excellent development work that has been carried out here.
Milton Keynes Chief Executive David Hill said:
The 'localisation' of the Homes and Communities Agency's roles and responsibilities in Milton Keynes and the transfer of its residual land assets to Milton Keynes Council will - for the first time in Milton Keynes' history - mean that all the key mechanisms for shaping the way in which the city develops are in the hands of locally elected representatives.

That should give confidence to local residents that plans for future growth will be responsive to their views and aspirations. The transfer package has been supported by all the political groups on the council.
Notes to editors
A discussion letter on the future of planning functions in Milton Keynes, is published today and can be found at: www.communities.gov.uk/publications/housing/hcamiltonkeynestransfer.
The deadline for responses is Monday 29 October.
Published 2 October 2012