Hampshire helps armed service leavers find employment
Hampshire County Council helped organise an event this week aimed at offering people leaving the Armed Forces advice on future careers.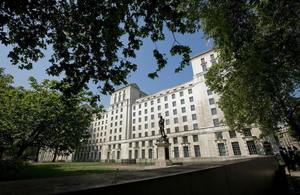 The Employment Fair held at FIVE in Farnborough, and part-funded by the County Council, is an initiative of the Hampshire Military Economic Partnership, which was set up to assist in developing training, investment and employment opportunities for people leaving the Forces, veterans and reservists.
Approximately 22,000 serving personnel are stationed in Hampshire along with approximately 6,000 civilians directly employed by the Armed Forces.
Following their period of service, a large number of people choose to settle in Hampshire and need to find local employment.
The Employment Fair helped service leavers, veterans and reservists recognise how their skills could be transferred, identify future career opportunities and provide useful contacts with prospective employers. Over 1,000 service leavers from all three Services attended the fair to take up the opportunity to meet over 100 major employers who had stands at the event.
Councillor Ray Ellis, Executive Member for Economic Development and Rural Affairs, said:
When coming out of the Armed Forces it can sometimes be difficult to see what your next step should be and how the skills you have can be applied elsewhere.
The aim of Employment Fair was to offer practical assistance to service leavers and put them in touch with training providers and potential employers. "The businesses that attended including BT and Tesco gave delegates good advice on how to improve employability and hopefully provided the inspiration the service leavers need to choose a new career path.
Brigadier Neil Baverstock, from the Ministry of Defence, added:
The hard work and endeavours of the Hampshire Economic Military Partnership has resulted in a highly positive response to this event from employers seeking the unique skills and experiences that service leavers can bring to the workplace.
The County Council is a member of the Hampshire Military Economic Partnership Economic Partnership along with the Armed Forces in the north-east of the County, the Career Transition Partnership and other partners.
Published 16 March 2011