Halton RAF families get upgraded homes
The properties are being refurbished inside and out, bringing them up to modern standards and meeting environmental needs. The improvements …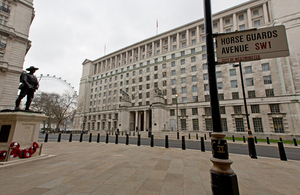 The properties are being refurbished inside and out, bringing them up to modern standards and meeting environmental needs. The improvements include new kitchens, new bathrooms with showers, improved storage space and better insulation. As well as being fully redecorated, the homes are getting new curtains, carpets and flooring.
Further improvements include replacement roofs, new heating and electrics, and walls being moved to create more spacious rooms. Windows are being replaced along with internal and external doors. All of the work aims to give Service families the comfort and safety they expect.
Air Commodore Elaine West, Head of DE Operations Housing, said:
Defence Estates' top priority is supporting our Armed Forces and their families. Like all our projects, what we are delivering at RAF Halton is terribly important and goes beyond the planning, building work and money invested.

Indeed, having spoken to occupants, these refurbishments are already making a real difference to Service families who are thoroughly enjoying their new homes.
RAF Halton Station Commander, Group Captain Garry Tunnicliffe, added:
I am pleased to have seen, first hand, the investment that has gone into RAF Halton quarters. The refurbishment is of a significantly high standard; a standard, that in the future, will be measured throughout the wider defence community.
The Halton upgrade project is being managed on behalf of DE by MODern Housing Solutions (MHS). So far 12 properties have been completed, 10 of which are now occupied. It is expected that the project will deliver all 83 upgraded homes by February 2011.
Air Commodore West and RAF Halton Station Commander Group Captain Garry Tunnicliffe recently met with some of the families who have already moved into their new homes.
They had an opportunity to view the significant improvements made and talk to residents, some of whom described the homes as like "moving into a new property".
Anna Allan, married to Flight Lieutenant Robert Allan based at the Station and mother of two young twins, recently moved into her upgraded Service home. She said:
You feel really valued when you walk through the door. It is a perfect house for a family. Living in this refurbished house with no ongoing maintenance concerns means that life is stress free and hassle free. That's exactly what you need as a Service family.
Corporal Alan Davies, who has recently moved into his upgraded Service home, added:
The house is fantastic, the wife loves it! It's so much fresher; it makes you want to make an effort to make it into your own home.
In the last financial year, DE has fully upgraded around 900 Service family homes with more modest refurbishments to many more.
Published 17 June 2010