Halfway there – Sellafield's Calder Hall now 50% fuel free
The painstaking task of removing tens of thousands of fuel rods from the world's first nuclear power station is halfway to completion.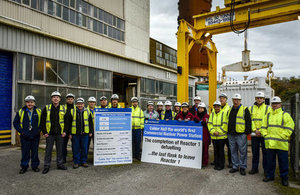 Workers at Sellafield's Calder Hall have now finished unloading fuel from the second of its four reactors, leaving two left to empty.
The defuelling programme began in 2011 and is scheduled for completion in 2019. Once finished, this will allow the station to be fully decommissioned.
Calder Hall began powering homes and businesses with carbon-free electricity in 1956, the year it was opened by the Queen.
It closed in 2003, following 47 years of safe operations – 27 years longer than was originally planned.
Glyn Thomas, Sellafield Ltd's head of Calder Hall, said:
The programme is going really well with a gradual but sustained acceleration in defuelling rates since we began in 2011.

We have two more reactors to empty before our target completion date of 2019. This will allow time for the fuel to be reprocessed in the Magnox reprocessing plant which will complete its operations in 2020.

Our success is down to the hard work of the team at Calder Hall and those in the supporting areas of the Sellafield site. I'd like to say a big thank you to them all.
Calder Hall was the first of a series of Magnox stations to be built in the UK, so-called because the fuel cans were made of magnesium alloy. Eleven stations were eventually built, producing 10% of the Britain's electricity.
As well as producing electricity, Calder Hall was also used to sterilise hypodermic syringes and produce radio cobalt used in the treatment of cancer.
Calder Hall and Wylfa, on Anglesey, North Wales, are the last two remaining Magnox stations going through the defueling process. Wylfa was the final one of the fleet to close, coming off the grid in December 2015.
Published 15 November 2016