Press release
Hague welcomes South Sudan commitment to tackling sexual violence
The South Sudan Government and UN Special Representative commit to an action plan on tackling conflict related sexual violence.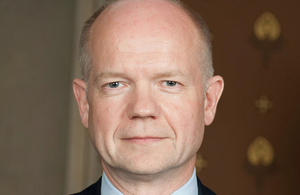 The UN Secretary General's Special Representative (SRSG) for Sexual Violence in Conflict, Zainab Bangura, visited South Sudan last week to better understand the situation on the ground and agree a set of actions. At the end of her visit, SRSG Bangura and President Salva Kiir signed a joint communiqué committing to an action plan to tackle conflict related sexual violence.
Commenting on the announcement, the Prime Minister's Special Representative for Preventing Sexual Violence in Conflict, The Rt Hon William Hague MP, said:
I strongly welcome this commitment by President Kiir. I look forward to working with the government, the UN and civil society in South Sudan to ensure that this much needed action plan is implemented. I call on the international community to also give their support to this ambitious plan.

I commend the continued support of the United Nations in helping the government of South Sudan address these issues, and especially SRSG Bangura, who played an instrumental role in securing this important commitment.

This agreement is another sign of the growing international recognition that sexual violence in conflict is an urgent issue that must be addressed, as a matter of international peace and security as well as human rights and development. The United Kingdom is committed to working with partners around the world to generate irreversible momentum, so that sexual violence can no longer be used with impunity as a tool of conflict and oppression.
Published 16 October 2014