Gurkhas' first Helmand operation of the summer
A search operation in an area thought to be a Taliban safe haven has been carried out by soldiers from 2nd Battalion The Royal Gurkha Rifles (2 RGR) in their first major operation since recently arriving in Helmand province.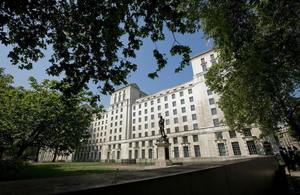 Operation TORA GORGA was carried out by soldiers from 2 RGR's B Company along with members of the Afghan National Army (ANA) and Police.
They searched a series of compounds near the village of Shin Kalay in Nad 'Ali district which had been identified as insurgent 'bed-downs' and used by insurgents to launch ambushes from.
The operation began with the ISAF and Afghan forces first searching people on a nearby bridge used as a key crossing point by locals, before moving on to the compounds.
Major Jamie Murray, Officer Commanding B Company, said:
What we're hoping to do is send a strong message to the Taliban that their presence in this area will not be tolerated. They bring nothing for the people of Nad 'Ali.

We're here to protect the people here and tell them too that if the Taliban were to come we'd come and support them.
The Gurkhas provided the security as the Afghan forces approached and searched the compounds.
Lieutenant Richard Roberts, a platoon commander with B Company, said:
They've [the Afghan security forces] got the cultural awareness and they show they have the type of counter-insurgency tactics to keep the local population as on side as possible.
Not long ago it would have been ISAF troops searching the compounds while the Afghans stayed outside. During this operation the Afghans insisted on taking the lead.
Lieutenant Mohammad Khalis Sakhidzada, an ANA commander, said:
There are a lot of benefits in searching the compounds. If there are any enemy there, when we come and search, it will frighten them and they'll leave.
Lieutenant Roberts added:
The main success of this operation was disrupting any insurgent activity there may have been there. We had Afghan National Police as well as Afghan National Army with us who know the local faces so if there had been any insurgents we'd have been there to detain them.
2 RGR's first major operation is seen by the troops as the beginning of what will likely be a very busy summer.
Published 4 May 2011