Gulf Stage project creates first global audience for Arabic theatre
An innovative collaboration spearheaded by the British Council breaks new ground today by bringing Arabic performances to a global audience online and for free.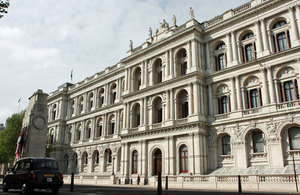 Gulf Stage provides young people who might never have attended a live performance, but regularly use digital media, the opportunity to experience the magic of theatre - taking theatre to them online. It provides Arabic theatre groups the opportunity to present productions before an international audience and to preserve their work, for the first time, for future generations.
The project is a pioneering collaboration between the British Council, the UK's leading cultural relations organisation; Youth Department - Qatar Ministry of Culture, Arts and Heritage (MOCAH); Cultural Development Centre member of Qatar Foundation; and Digital Theatre. Digital Theatre is a new UK company which specialises in capturing quality performances authentically onscreen.
Digital Theatre worked with the British Council and its local partners to film and digitise theatre productions by companies from Bahrain, Kuwait, Oman, Qatar, Saudi Arabia, and UAE during the Gulf Co-operation Countries (GCC) Youth Theatre Festival in October 2010. The six productions, which are subtitled into English, are now available for viewing online free of charge though Digital Theatre's website. By using cutting-edge techniques in digital film-making Gulf Stage overcomes geographical barriers and provides strong cultural learning opportunities for theatre producers in both parts of the world.
Brendan Griggs, Head of Drama and Dance at the British Council commented:
"This exciting project highlights how the British Council is responding to the changing landscape of the performing arts. Projects like Gulf Stage illustrate the innovative lead which the UK has taken in the digital arts field.
Cultural content generated by Gulf Stage can now be shared, developed and distributed between partners, artists and audiences on different social media platforms, opening up rich cultural conversations on a global level."
Gulf Stage reflects a rising trend amongst theatre companies and venues to embrace the digital revolution. This is the first time that Digital Theatre - who work with the UK's leading theatre companies - has worked outside of the UK to record theatrical productions.
Robert Delamere and Tom Shaw of Digital Theatre said:
"Gulf Stage was an incredible opportunity for us to bring theatre from different cultures to an international audience via digitaltheatre.com. Being able to showcase the best of British theatre online was the starting principle behind Digital Theatre.
Now, working with the British Council on this project is a very exciting addition to our work and a significant step towards making Digital Theatre a truly global website."
Mr Khalid al Mulla, Head of Youth Department at the Qatar Ministry of Culture, Arts and Heritage said:
"Gulf Stage captures the emotion and spirit of live contemporary theatre for the first time in the Middle East, in a way that draws the audience into its performances."
Hafiz Ali Abdulla, Arts Programme Manager at the Cultural Development Centre, Qatar Foundation added:
"The presence of Gulf Stage for the first time in Qatar and the Gulf Co-operation Council are very beneficial and helpful to the youth, as it brings them closer through using the latest technology in the field of arts. Such innovation support and develop the cultural movement."
Gulf Stage started with a study visit to the UK organised by the British Council for its Qatari partners in May 2010 to meet UK theatre companies. Seventeen aspiring Qatari film and theatre professionals were then trained by Digital Theatre in digital film techniques during a British Council workshop that accompanied the GCC Youth Theatre Festival.
Recordings of some of the Gulf Stage productions received a gala screening in Doha last December, during the final month of the prestigious Doha, Arab Capital of Culture programme 2010. They were showcased alongside an existing film of a high profile UK theatre production recorded by Digital Theatre. Further public performances together with workshops are planned to be held in other GCC countries over the coming year.
Gulf Stage has been brought to the Middle East under the British Council's New Work New Audiences global arts programme. This year in the Middle East New Work New Audiences activities cover music, dance, theatre, the visual arts, architecture and literature.
Published 31 January 2011