World news story
GUBA partners with Chevening in Ghana
GUBA Awards has announced its partnership with Chevening based on the mutual aim of supporting outstanding individuals to build their dream careers.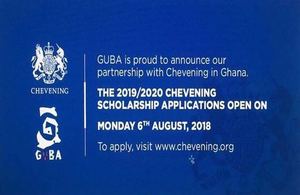 GUBA Awards is pleased to announce its partnership agreement with Chevening in Ghana.
Chevening Scholarships are the UK government's global scholarship programme aimed at developing global leaders, with scholarships being awarded to outstanding emerging leaders to pursue a one-year Master's degree at any UK university.
Applications for the prestigious Chevening Scholarship scheme are open from Monday the 6 August 2018 to 6 November 2018; for the 2019/2020 cycle.
The Chevening Scholarship platform offers ambitious, academically strong individuals, with fully-funded scholarships to study in the UK. Applicants from Ghana (Togo, Benin and Burkina Faso) have a wide range of courses to choose from, along with the opportunity to become part of the highly regarded and influential Chevening global network.
Speaking on the Chevening-GUBA partnership, CEO of GUBA Enterprise, Dentaa Amoateng MBE adds:
Chevening scholarships offer a great way for ambitious young leaders from Ghana (Togo, Benin and Burkina Faso) to make impact in their countries through knowledge sharing and building strong networks during an exciting year in the UK. It is a great platform to propel many to exceed their academic achievements and fulfill their aspirations. GUBA's partnership with Chevening is based on the mutual aim of supporting trailblazing and outstanding individuals on their journey to greatness. I will encourage all suitable candidates to apply for this amazing opportunity.
For further information and to apply for a Chevening Scholarship, visit the Chevening website.
Applications for the 2019/2020 close on 6 November at 12:00 GMT.
About GUBA Enterprise
GUBA Enterprise consisting of the GUBA Awards, GUBA Expo, GUBA Foundation, GUBA Careers and GUBA Health, is an umbrella organisation committed to the advancement of Ghanaians. GUBA Awards promotes closer economic, cultural and social links between Ghana and the United Kingdom.
The GUBA Foundation is an initiative set up to tackle health issues within the African community. The GUBA Expo is a platform for Small and Medium Businesses to exhibit their products/services whilst engaging with industry personnel on business growth strategies. GUBA Careers aims to connect corporate firms in Ghana and Africa with skilled individuals in the UK. GUBA Health is a customized health insurance solution for diaspora based Ghanaians and their dependents resident in Ghana. GUBA Enterprise has demonstrated its dedication to promoting excellence in the African community within its years of operation.
For further information please contact Claudia Andrews.
About Chevening
Chevening is the UK government's international awards scheme aimed at developing global leaders. Funded by the Foreign and Commonwealth Office (FCO) and partner organisations, Chevening offers two types of award – Chevening Scholarships and Chevening Fellowships – the recipients of which are personally selected by British embassies and high commissions throughout the world.
Chevening offers a unique opportunity for future leaders and influencers from all over the world to develop professionally and academically, network extensively, experience UK culture, and build lasting positive relationships with the UK. Visit the Chevening website for more information about Chevening.
Published 16 August 2018