World news story
Guatemala's National University hosts Brexit forum in Chiquimula
The British Embassy and the Eastern Educational Centre (CUNORI) of Guatemala's National University (USAC) organized an academic forum in Chiquimula to better understand the effects of the UK's decision to leave the European Union, commonly known as "Brexit".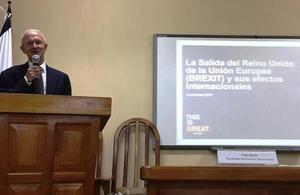 The activity was held in the facilities of CUNORI in Chiquimula and featured a presentation by Mr Thomas Carter, British Ambassador to Guatemala; and the participation of students from the Career of Political Sciences.
In the presence of numerous students, Ambassador Carter explained the position of the UK Government following the referendum decision to leave the EU, the potential impact of this on the Guatemalan economy and the UK relationship with the rest of Europe.
For the UK Government the forum was an opportunity to reiterate its commitment towards Guatemala, as evidenced in a number of key areas, such as the economy, the rule of law, the fight against corruption and the protection of individual freedoms. The Embassy also provided information on the Chevening Scholarships programme to the participants.
Whilst in Chiquimula, Ambassador Carter also met with the local authorities, including the Deputy Governor, Herberth Carranza; and the Deputy City Mayor, Benjamin Torres. Ambassador Carter underscored the UK's support for Guatemala in tackling poverty, attracting investment to the rural areas, and in continuing to strengthen our economic relationship.
To mark his participation at the forum, Ambassador Thomas Carter said:
Despite leaving the EU, the UK will continue to remain an outward-looking country and is committed to engaging in global issues around the world. Our ambition is to use 'Brexit' as a springboard to even deeper and wider relationships that create even greater prosperity and security for the UK and its partners, including Guatemala.
Published 23 September 2016