World news story
Guatemalan university releases study and digital campaign on the Falkland Islands
"The future of the Falkland Islands looks promising", according to an independent investigation made by Eduardo Calderon, Daniel Haering and Andres Marroquin from the University Francisco Marroquin (UFM) and unveiled in Guatemala.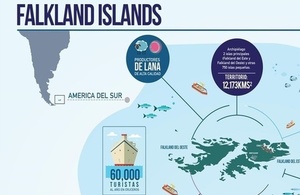 The event was attended by representatives of the British Embassy, who financed the trip of the academics in 2014. Since then and further study, the investigators unveiled their main findings.
The study entitled "The Falkland Islands: A Perspective from Latin America" analyzes the economics, politics and the rule of law in the Falklands. The report highlights the economic potential of the Islands from hydrocarbons, fisheries, tourism and praises the island's political and social stability. "With a system of checks and balances, transparency, the remarkable aid of the UK as a supervisor of a good government (…) and vast natural resources to their disposition (…), in the future significant challenges will come that will put the society and the political system of the Islands into an unusual pressure", the report states.
Amongst some of the challenges the Islands face, the report quotes a small population, their reluctance to open further their borders to immigration, or its relatively political isolation from the American continent. On this extent is worth to highlight that the study didn't try to focus at all in sovereignty conflicts o territorial disputes.
The report also relies in a series of videos and info-graphics that will help the dissemination of its content in social networks for the academic exploitation of local and international audiences. The digital content can be accessed here.
To mark the event, Andrew Tate, Chargé d'Affaires at the British Embassy in Guatemala City said:
The United Kingdom considers extremely valuable the objective contributions made by studies like this, which highlights the reality of the people that live in the Islands. The United Kingdom is committed to defend the Islander's rights to self determination and to build their own future.
Published 14 July 2016