World news story
Guatemalan national bands recall "The Beatles" on their International Day
More than 7 bands will be participating in the fourth edition of the "Beatles Day Guatemala" on 13th of July.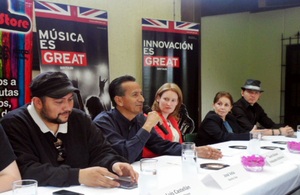 The event commemorates 49 years since the Genius of Liverpool arrived in London from a US tour that marked their beginning as music super stars.
The concert is supported by the British Embassy and other partners as part of the global campaign "Music is Great", and will consist of almost 10 hours of live music with remarkable national bands playing music from the Beatles.
To mark the event, British Ambassador to Guatemala, Sarah Dickson, said: "Some of the greatest music in the world comes from Britain, and British music is still topping the charts today. I'm glad that Guatemala is joining this tradition to commemorate the date when the Fab Four laid the foundations for their stardom".
Guatemala has joined the celebration of this milestone since 2010 along with these other cities: Liverpool, Hamburg, New York, Florida, Shanghai, Sydney, Moscow, Wellington, Mexico, Buenos Aires, Lima, Madrid and Seville.
Amongst the participant bands are: Liverpool, Imox Jazz, The Tefeatles, TodoSantos, Duo Esencial, Charles Portrait, Los Bichos Lovely Fans, San Antonio de Cabeza, Tijuana Love, Nash and El Gruve from El Salvador. There will be costume contest, memorabilia Beatle, raffles and photo booths.
Date: Saturday 13th of July Time: 15.00 onwards Place: Azaria room, Paseo Cayalá Prices: Q50 – Q100 – Q150
Published 18 June 2013
Last updated 18 June 2013
+ show all updates
Wanting to add translation after publishing.
First published.