World news story
Guatemalan business mission to explore trade and investment opportunities in the UK
The British Embassy, the Government of Guatemala and the British company Branding Latin America; called on the Guatemalan business sector to join in a trade mission to Britain in February 2017 with the aim of exploring new trade and investment opportunities.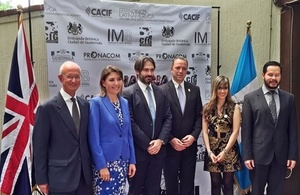 The project entitled "Chapina Experience" consists of a programme of activities from 1 to 3 February 2017 in London, UK, focused on the fashion, gastronomy, tourism and agricultural sectors. The agenda will include appointments with potential buyers, intermediaries, business associations and other British actors relevant to the specific needs of the registered companies.
Space has been opened up to 10 - 15 Guatemalan businesses of all sizes. Some of the benefits of the project include a discounted travel package to the UK with airfare, hotel and transfers included; and the possibility of accessing the network of contacts from Branding Latin America based in London, which could act as a springboard into other markets with potential for Guatemalan products in Europe.
"Chapina Experience" has the support of the Ministry of Foreign Affairs of Guatemala and with the help of the Embassy of Guatemala in the UK, has suggested a number of key contacts to meet with the mission. The British Embassy in Guatemala has also contributed its experience through the UK global prosperity agenda that seeks to strengthen economic ties between the two countries.
This will be the first Guatemalan trade mission since the UK decided to leave the European Union (EU). While the details have yet to be defined, Britain remains committed to free trade and the business mission seeks to endorse a message of support for the largest economy in Central America. On average, exports of Guatemala to the United Kingdom increased by 22% between 2009 and 2015.
The launching ceremony of "Chapina Experience" was attended by: Thomas Carter, British Ambassador to Guatemala; Maricarmen Fuentes, Founder of the Chapina Experience Project; Javier Zepeda, Executive Director of the Guatemalan Chamber of Industry; Carlos Bran, International Affairs Coordinator of CACIF; Acisclo Valladares, Presidential Commissioner for Competitiveness and Investment; and Ambassador Stephanie Hochsteeter, General Director of International, Multilateral and Economic Relations at the Guatemalan Ministry of Foreign Affairs.
Companies interested to know more about the trade mission can call the phone number +502-4019-6062; write to the email address Maricarmen@brandinglatinamerica.com; or visit this website www.facebook.com/chapinaexp.
Document information
Published: 4 October 2016