World news story
Guatemala strengthens capabilities to protect children from online sexual exploitation
The Guatemalan National Police inaugurated a new Office of the Unit Against Cybercrime with the aim of strengthening actions of prevention, investigation, and attention to children victims of cybercrime.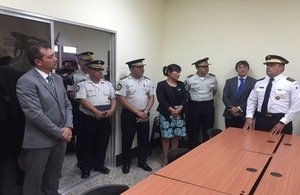 The new facilities are part of an international project that seeks to strengthen national institutions –working together with civil society, academia and the private sector- to protect children from online sexual exploitation. The project was launched in 2015, financed by the British Government and implemented by the United Nations Fund for Children (UNICEF) with an initial capital of £5m that has helped 17 countries, including Guatemala.
The internet, social networks and new digital platforms are powerful tools for sharing information, learning and communicating; but are also used by individuals and criminal networks to perform illicit activities. Child pornography, sexual exploitation and human trafficking, are some of the threats of which children are the most vulnerable victims, without distinction of socioeconomic background, ethnicity or gender.
The inauguration was attended by the Minister of the Interior, Francisco Rivas; the Director of the National Police, Nery Ramos; the British Embassy's Deputy Head of Mission, Andrew Tate; the Director of the Institute for Sustainable Development, Carmen Rosa De Leon Escribano; and the Deputy Representative of UNICEF in Guatemala, Mariko Kagoshima.
Minister Rivas highlighted that the joint work of the Ministry of the Interior, the National Police, the Public Prosecutor's Office, and the Judicial System, has already set a precedent on pursuing crimes against children. For example, there are people convicted of child pornography crimes, with sentences ranging from 8 to 43 years in prison.
Mariko Kagoshima, from UNICEF, urged the Guatemalan Government to adhere to the Convention of Budapest, which could allow countries to collaborate in cybercrime issues. As many of these networks operate in different countries and are from various nationalities, such arrangements are crucial to dismantle their operations.
Since 2015 the United Kingdom has been working with UNICEF with a new Global Fund to Prevent Violence against Children, with an initial focus on protecting children from online sexual exploitation. This fund helps beneficiary countries to identify and protect victims, remove child sexual abuse material from the internet, and co-operate across the world to track down perpetrators.