GrowthAccelerator for small businesses
£200 million programme delivers growth support for England's most ambitious small businesses.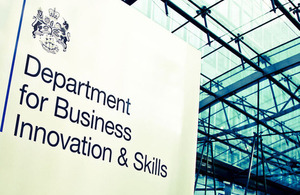 23 May 2012
---
---
GrowthAccelerator has launched today, designed to help up to 26,000 of England's brightest businesses achieve their ambition and potential.
The new partnership between the government and the private sector will see proven business experts working with companies to identify their barriers to growth and how to overcome them. This will include tackling problems such as:
Securing finance.
Commercialising innovation.
Developing leadership.
Management capability.
Business Secretary Vince Cable launched the programme at Huddle, the computer cloud collaboration company, which is one of the trailblazer businesses taking part. He said:
"The UK boasts vibrant small and medium sized businesses that have the chance to become the household names of tomorrow.
"With targeted support we are giving entrepreneurs a fantastic opportunity to take their businesses forward to succeed both here and abroad. I look forward to seeing what this great programme helps them achieve in the future."
As well as coaching, GrowthAccelerator helps by fast tracking clients to trusted providers of business advice, such as UK Trade and Investment (UKTI), professional advisers and Angel Investors.
Business and Enterprise Minister Mark Prisk welcomed the launch, saying:
"Entrepreneurs are the lifeblood of our economy and we are giving them the support they need to realise their potential.
"As well as this ambitious and innovative programme, we are already creating a network of thousands of business mentors and will soon be launching a new £10 million start-up loans scheme to give young people access to business advice and a small amount of capital."
The programme forms part of a package of support for small and mid-sized businesses. It is part of the Business in you campaign running this year, encouraging more people to start or grow their business throughout 2012 using the support services available.
Links
Published 23 May 2012