News story
Growth opportunities identified to increase UK automotive manufacturing work
Companies in the UK are already winning more than £7 billion of work annually from vehicle makers. But there are clear opportunities to grow…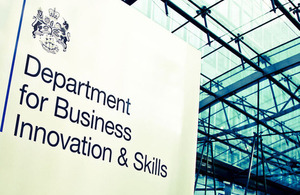 Companies in the UK are already winning more than £7 billion of work annually from vehicle makers. But there are clear opportunities to grow this business.
Using data collected from vehicle manufacturers and supply chain companies, the report identifies the opportunities with a new purchasing wish list of interior and exterior vehicle parts from manufacturers.
The report was launched today by the Business Secretary during a visit to Jaguar Land Rover (JLR) and supply chain company International Automotive Components (IAC) in Halewood, Merseyside.
Vince Cable also welcomed today's news that JLR's Evoque, which starts production in July backed by a government offer of support of up to £26 million, has resulted in supply chain contracts worth £2 billion being awarded to 40 manufacturers across the UK.
In addition, JLR are creating 1,500 apprenticeship places at Halewood to build the Evoque. It is expected that the contracts announced today will generate a further 5,000 new jobs in the supply chain.
Dr Cable who also co-chairs the Automotive Council said:
"JLR's news that it's awarding £2 billion worth of contracts to businesses in the UK to supply components for the Evoque shows that the UK automotive supply chain is capable of winning major contracts and creating vital jobs in the UK.
"Today's Automotive Council report shows for the first time, where the opportunities are, the parts that vehicle manufacturers want to source here in the UK if they have the choice, and where the UK has capability to supply those parts."
The joint industry/government Automotive Council was set up to address issues such as the need to reinforce and grow the UK supply chain.
Co-chair Professor Richard Parry-Jones said:
"The automotive sector in the UK is seeing a resurgence as global vehicle manufacturers increase their investments and look to increase local sourcing.
"The supply chain is poised to benefit from these developments, but it requires a concerted and co-ordinated effort, led by the joint industry/government Automotive Council, to help realise this potential opportunity.
"The publication of this report is a key step in making this happen."
The report was compiled by Dr. Matthias Holweg, from the Judge Business School at the University of Cambridge. He said:
"This report will provide an important evidence base for both vehicle manufacturers and suppliers when assessing what parts and products to make, buy and sell.
"I was delighted to have good co-operation from the industry to produce this report for the Automotive Council and I look forward to seeing the potential opportunities for growth being realised."
Notes to editors:
1. Growing the Automotive Supply Chain - the Road Forward is available at www.automotivecouncil.co.uk.
The purchasing directors of 11 major UK-based vehicle manufacturers (passenger cars and commercial vehicles) were surveyed in order to identify which components are currently sourced in the UK; which ones are not and why; and which parts they would like to buy in the UK and are not currently buying. 140 suppliers responded to a questionnaire developed to cross-validate these findings and assess the reciprocal views of the UK-based automotive suppliers. Combining the results of the two surveys identified which component groups provide the best match, both current and prospective, between vehicle manufacturer requirements and UK supply capabilities.

The total purchasing spend of the 11 manufacturer companies surveyed is £7.4 billion, which accounts for, on average, approximately 36 per cent of their global purchasing spend (although the amount purchased in the UK, in relation to their worldwide purchasing spend ranges from 11 per cent to 83 per cent for the individual companies).

The main categories with untapped potential are:
'interior and exterior parts which include headliners, carpets, seats, instrument panels and HVAC units, glass as well as exterior parts such as bumpers and large plastic mouldings;
'powertrain and body' parts including suspensions, castings, forgings and transmission components; and,
'electrics and electronic' parts which includes power steering, engine control units and alternators.
The study also looks at issues holding UK suppliers back. In addition to pinpointing new work that manufacturers would like to source from the UK, the report also identifies that, contrary to popular belief, even lost contracts need not necessarily be lost for ever. A third of recent contracts that left the UK went to manufacturers in Western Europe rather than low cost economies. Overall this too is positive as this represents business that could be won back by the UK.

The Automotive Council was announced on 12 November 2009 as part of the previous government's response to recommendations made in the industry-led report from the New Automotive Innovation and Growth Team (NAIGT). NAIGT was chaired by Richard Parry-Jones. Its main aims are to enhance the attractiveness of the UK as a location for global automotive investment, promote UK-based manufacturers and technologies, strengthen the supply chain and position the UK as a leading global player in developing, manufacturing and using ultra-low carbon technologies.

The offer to JLR of a £26 million grant from government is subject to approval from the European Commission.

BIS' online newsroom contains the latest press notices, speeches as well as video and images for download. See www.bis.gov.uk/newsroom for more information.
Notes to Editors
Contact Information
Name BIS Press Office Job Title
Division COI Phone
Fax
Mobile
Email NDS.BIS@coi.gsi.gov.uk
Name Rebecca Murrell Job Title
Division Department for Business, Innovation and Skills Phone 020 7215 6403 Fax
Mobile
Published 2 March 2011