News story
Growth opportunities for UK automotive manufacturing
A new report sets out the details of the manufacturing parts that car makers want to source from the UK, but are not currently buying here.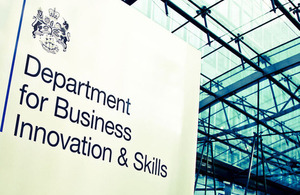 The new report, 'Growing the Automotive Supply Chain: The Road Forward' launched today by Business Secretary Vince Cable, identifies some of the reasons for this, where purchasing decisions are made and where the UK has the potential capability to meet this currently untapped demand.
Companies in the UK are already winning more than £7 billion of work annually from vehicle makers. But there are clear opportunities to grow this business.
Using data collected from vehicle manufacturers and supply chain companies, the report identifies the opportunities with a new purchasing wish list of interior and exterior vehicle parts from manufacturers.
The main categories with untapped potential are:
Interior and exterior parts which include headliners, carpets, seats, instrument panels and HVAC units, glass as well as exterior parts such as bumpers and large plastic mouldings.
'Powertrain and body' parts including suspensions, castings, forgings and transmission components.
'Electrics and electronic' parts which includes power steering, engine control units and alternators.
The study also looks at issues holding UK suppliers back. In addition to pinpointing new work that manufacturers would like to source from the UK, the report also identifies that, contrary to popular belief, even lost contracts, need not necessarily be lost for ever.
Jaguar Land Rover announces £2bn supply deals
The report was launched today by Vince Cable during a visit to Jaguar Land Rover (JLR) and supply chain company International Automotive Components (IAC) in Halewood, Merseyside.
Vince Cable welcomed today's news that JLR's Evoque, which starts production in July backed by a government offer of support of up to £26 million, has resulted in supply chain contracts worth £2 billion being awarded to 40 manufacturers across the UK.
In addition, JLR are creating 1,500 apprenticeship places at Halewood to build the Evoque. It is expected that the contracts announced today will generate a further 5,000 new jobs in the supply chain.
Dr Cable, who also co-chairs the Automotive Council, said:
"JLR's news that it's awarding £2 billion worth of contracts to businesses in the UK to supply components for the Evoque shows that the UK automotive supply chain is capable of winning major contracts and creating vital jobs in the UK.
"Today's Automotive Council report shows for the first time, where the opportunities are, the parts that vehicle manufacturers want to source here in the UK if they have the choice, and where the UK has capability to supply those parts."
Links
Published 2 March 2011