News story
Growth in aerospace industry at the top of the agenda
The high level meeting discussed how, working together, the industry and Government can address barriers to growth, boost exports and increase…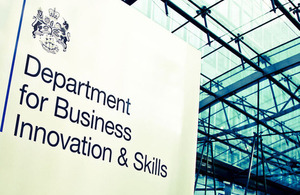 The high level meeting discussed how, working together, the industry and Government can address barriers to growth, boost exports and increase the number of high value jobs in the UK. The meeting also looked forward to the planning of the 2012 Farnborough Air Show.
Business Secretary and co-chair of the Aerospace Business Leaders group Vince Cable, said:
---
"With around 100,000 people employed all around the country and contributing around £23bn a year to our economy, the aerospace sector is central to our plans to rebalance the economy.
"The global aerospace market is constantly changing, it is important that Government works closely with our leading businesses to provide support and help the industry maintain its world leading position. The internationally renowned Farnborough Air show next year, gives us an ideal opportunity to showcase the very best that British aerospace manufacturers have to offer.
"Our aerospace companies also have a diverse supply chain of some 3,500 companies in total, most of which are SMEs. However the evidence is that the UK aerospace supply chain is losing work overseas. That's why we announced a fund of up to £125 million to help reverse this trend and ensure that the sector can benefit from the massive growth that will take place in the global aerospace market over the next 20 years."
Action from previous meetings of the Aerospace Business Leaders forum is already underway through the Aerospace Growth Partnership - chaired jointly by Mark Prisk (Minister of State for Business and Enterprise) and Marcus Bryson (CEO of GKN Aerospace) - with wide representation from business, government and academia.
Notes to Editors:
Britain's aerospace industry has a 17 per cent global market share and employs over 100,000 people in the UK, including 2,500 apprentices. The UK has world-leading excellence in wings, engines, landing gear, and advanced systems that keep aircraft flying safely and efficiently, and is one of only five nations in the world with the range of capabilities needed to design and build advanced helicopters.

During 2011 there have been a series of capital investment by aerospace companies across the country, from Bombardier in Belfast, Airbus in Broughton, AgustaWestland in Yeovil and most recently the National Composite Centre in Bristol.

BIS's online newsroom contains the latest press notices, speeches, as well as video and images for download. It also features an up to date list of BIS press office contacts. See http://www.bis.gov.uk/newsroom for more information.
Notes to Editors
Contact Information
Name BIS Press Office Job Title
Division COI Phone
Fax
Mobile
Email NDS.BIS@coi.gsi.gov.uk
Name Nick Evans Job Title
Division Department for Business, Innovation and Skills Phone 020 7215 3496 Fax
Mobile
Published 14 December 2011