World news story
Growing UK automotive industry offers opportunities for investors
This was published under the 2010 to 2015 Conservative and Liberal Democrat coalition government
Austrian automotive suppliers well placed to grow in the booming UK car industry.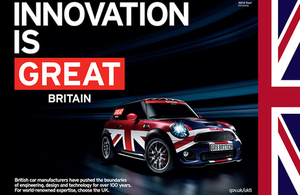 Figures released by the UK's Society of Motor Manufacturers and Traders (SMMT) on 5th March 2015 show that the UK new car market has grown for a 36th consecutive month.
Global demand for the UK's high quality automotive engineering and diverse range of products remains strong. 80% of cars built in the UK are exported to more than 100 countries.
New car registrations in the UK in 2014 were the highest in a decade. The UK remains the second largest car market in the European Union (EU), surpassing the region's 5.7% average growth.
Opportunities for Austrian companies
Record growth in the UK car market offers opportunities for Austrian automotive suppliers to invest in a growing market.
Austria's automotive component supplier sector is growing at 8% annually. Leading Austrian companies in this sector, such as AVL, Voestalpine, Engel, Banner, Benteler are already successfully established in the UK.
Watch our video where Matthias Wellers, Managing Director, AVL powertrain UK Ltd shared in his own words his experience of investing in the UK.
Innovation in UK automotive sector
Innovation is extremely important for the brand identity of car makers, especially in the premium segment. Global players are continuing to invest in the UK market due to access to the UK's research base.
Automotive investment in the UK includes:
Jaguar Land Rover continuing its investment in lightweight technologies with development of aluminium vehicle construction at its Solihull plant
Ford investing a further £190 million into the £490 million project to produce its range of low carbon engines at Dagenham plant
UK government is supporting research for technology and infrastructure for ultra low emission vehicles and driverless technology.
UK base can help you access global markets
80% of cars built in the UK are exported to more than 100 countries. Much of this growth has been driven by demand for UK's premium and luxury vehicles.
Demand in the automotive sector is now shifting towards Asia. More than 220,000 cars from the UK were exported to Asia in 2014.
China is now the second largest market for UK car export, at about 12% in 2014, compared with 1% in 2007.
UK car exports to India have increased nine-fold in 5 years. India new vehicle market is expected to be worth £64 billion by 2020. Demand for new cars in India will grow rapidly as India's middle class is set to quadruple over the next decade.
UKTI Austria can help you invest in the UK market
UK Trade and Investment (UKTI) based in Austria helps Austrian companies succeed in the UK. Come and talk to us about the strengths of your company and we will offer professional and personalised assistance to make them work for you in the UK.
We can:
help you set up and raise your profile in the UK
provide ongoing support to enable you to accelerate your international growth
develop your innovation capability by linking you up to universities, innovation hubs and funding via our extensive UK network
UKTI won an award at the United Nations World Investment Forum for excellence in attracting foreign investment in 2014.
Contact UKTI
Contact your local UKTI Investment Team in Austria to find out how we can help you take advantage of opportunities in the UK automotive industry.