World news story
Groundbreaking British innovation set to captivate a Beijing audience
This was published under the 2010 to 2015 Conservative and Liberal Democrat coalition government
The China Science Festival opened its doors this morning (18 July) to young visitors from throughout the country.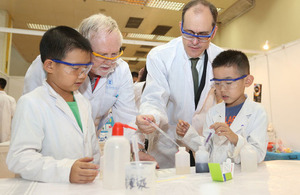 With the UK designated this year's "Country of Honour", many are expected to head for the British area, showcasing the best of British innovation in the fields of digital technology, satellites, automotive engineering and eco-technology.
Visitors to the UK area can expect to find an array of mind-blowing technologies:
A booth sponsored by BP and Castrol will feature a scale model of the Bloodhound Super Sonic Car – a British-led project to build a car that will attempt to reach 1000 miles per hour and break the land speed record.
The British Council will display a model of a bicycle developed by Brunel University which converts polluted water into safe drinking water.
Surrey Satellites' booth will include the technology from their micro-satellites developed to provide images for the purposes of land monitoring and natural disaster response in China, as part of a wider exhibit showing how the University of Surrey has facilitated the commercialization of university research.
Other participating universities will include Hull University and University College London (UCL). UCL will showcase digital technology including a project to provide affordable digital microscopes for high schools and an app for 3D imaging of archaeological finds.
And for those itching to get involved, the Royal Society of Chemistry and Institute of Physics will invite young visitors to try out some simple science experiments for themselves.
Speaking this morning at the Festival, the British Ambassador said:
I am delighted that the UK is playing such an important part in this festival. The UK is one of the most innovative countries in the world. Our science and innovation relationship with China is stronger than ever, and this is largely because over the years we have built such good links between our people. This event is an important way for Great Britain to reach out to the next generation of Chinese scientists, to show them what our country has to offer, and to inspire and share our passion for science.