Greg Barker praises Salford for green growth
Minister to open £2million expansion at Salford firm and announce new jobs for 2011 Greg Barker launches Salford University&rsquo…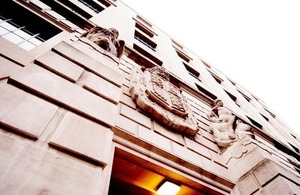 Minister to open £2million expansion at Salford firm and announce new jobs for 2011

Greg Barker launches Salford University's life size Energy House model
Local businesses share their experience of green growth
Climate Change Minister Greg Barker will today congratulate the North West on seizing the opportunities that a low carbon future offers as local firm ENER-G announces the creation of 100 new jobs.
Greg Barker is visiting the region to learn from the successes of local green business but also to hear firsthand what challenges still exist.
As part of the fact finding mission Greg Barker will visit Salford based eco-company ENER-G to open their new £2m extension and announce new jobs at the company. ENER-G will today confirm plans to create a further 100 new jobs in 2011. EnerG already employs nearly 300 people in Salford making low carbon and renewable technologies.
Greg Barker said:
"I'm extremely pleased to be able to announce the £2m expansion to ENER-G and to celebrate the new jobs that will come with that investment. These are still challenging times for the whole economy but as the recovery really starts to grow Salford is fast becoming a green beacon of the North West by capitalising on a move to a low carbon economy.
"I'm impressed by the forward thinking nature of businesses here which are developing the technologies of the future but I also want to find out what challenges still exist for those yet to benefit. I'm talking to local businesses to find ways to unlock investment.
"We're serious about being the greenest government ever and unlocking low green growth in all parts Britain."
Greg Barker will also address a conference at Salford University on the importance of retrofitting homes to improve energy efficiency. The Green Deal, due to start in 2012, is the Government's new and radical way of enabling private companies to make energy efficiency available to all at no upfront cost. Greg Barker will launch the impressive new Energy House at the University- a life size model of an energy efficient home within a laboratory used to research the effectiveness of new technologies in reducing energy use and waste.
Tim Scott, chairman of ENER-G said:
"The growing global demand for our innovative products and services is stimulating strong growth - reflected both in our rising turnover and the need to expand our headquarters. The sectors in which we operate offer solid potential for future growth, supported by UK and international government policies for sustainable energy.
"We are exceedingly proud of the rich contribution engineering and manufacturing businesses like ours make to UK PLC, and our position at the helm of building a new low carbon economy".
Conference organiser and Energy Hub project manager Steve Waterworth said:
"The response we've had to the conference even before announcing the speaker programme has been staggering, and I'm delighted that Greg Barker has agreed to address the conference and officially open the University's new Energy House and Hub.
"The calibre of the experts we've secured, and the influential delegates set to attend, demonstrate that retrofit is right at the top of the sustainability and housing agendas and that it is highly relevant to both the commercial and public sector."
---
Contacts
Salford University press office contact: Richard Bond, 0161 838 7770
ENER-G press office contact: Janet Kilpatrick, 0161 487 3830
Published 27 January 2011