Press release
Greening: Polio outbreaks 'threaten decades of progress'
The UK has released £100m to help eradicate polio and contain outbreaks in Syria and East Africa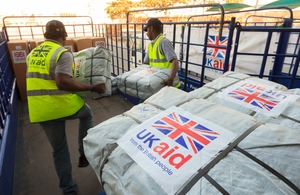 Polio outbreaks in Syria and East Africa threaten to reverse decades of progress in eradicating the disease, Justine Greening told the Rotary International conference in Milton Keynes on Saturday 9 November.
The International Development Secretary announced the release of £100 million to help the drive to eradicate polio. This forms part of the UK's pledge to help vaccinate up to 360 million children by 2018.
Since 1988, the number of countries in which polio is endemic has dropped from 125 to just three: Afghanistan, Pakistan and Nigeria. Last year, there were just 223 reported cases globally.
However this year, Somalia recorded its first cases of polio since 2007. Cases were also reported in neighbouring countries like Kenya and Ethiopia. Last month, the first outbreak of polio in Syria in 14 years was confirmed.
Justine Greening said:
In 1988, there were 350,000 new cases of polio reported across the globe. Last year there were 223. Thanks to global efforts to tackle this disease, including the vital work of Rotary International, we are within reach of finally consigning polio to the history books.

Yet new cases in Syria and East Africa threaten to reverse decades of progress. Now is the time to step up efforts to finally rid the world of polio. This should not be limited to one country or one organisation. Everyone has a part to play.
Gary Huang, President-elect of Rotary International, said:
Thanks in great part to the support of the United Kingdom, the world is on the verge of defeating polio once and for all. The world must remain vigilant, united in the effort to ensure that no child will have to suffer the crippling effects of polio.

The recent outbreaks in the Horn of Africa and Syria are stark reminders of how dangerous the wild poliovirus is. The world must remain firmly united in the effort to conquer polio where it persists.
The funding will be used to help the Global Polio Eradication Initiative (GPEI) to deliver a polio-free world by 2018. As well as their global surveillance role, the GPEI run mass vaccination programmes in the 3 endemic countries and are supporting emergency regional outbreak response efforts to stop the outbreaks of polio in Syria and East Africa.
As part of the Rotary International conference, Justine Greening will also be presented with Rotary's Polio Eradication Champion Award. Established in 1995 to honour heads of state, health agency leaders and others who have made a significant contribution to the global eradication of polio, past recipients include Angela Merkel, David Cameron and Ban Ki-moon.
Rotary made polio eradication its top philanthropic goal in 1985. As the volunteer arm of the GPEI, Rotary has contributed more than US$1.2 billion and countless hours of volunteer service to ending polio. This includes nearly £20 million contributed by the 53,000 members of Rotary clubs in the United Kingdom. To date, more than 2 billion children have been immunised against the paralysing and sometimes deadly poliovirus.
Notes to editors
The Global Polio Eradication Initiative is spearheaded by national governments, the World Health Organisation, Rotary International, the US Centres for Disease Control and Prevention and UNICEF. It is supported by key partners such as the Bill and Melinda Gates Foundation as well as the countries affected by polio, bilateral and multilateral donors, NGOs and foundations.
Justine Greening gave the keynote speech at the Rotary International Institute for GB and Ireland on Saturday 7 November, at Horwood House. Rotary Institutes are regional meetings held annually for the purpose of informing current, incoming and past Rotary leadership about topics of importance to the organisation. For more information go to www.rotary.org
Published 10 November 2013