Press release
Greening: New poverty goals must focus on peace, jobs and justice
International development must move beyond traditional aid and towards boosting peace, jobs and justice, Development Secretary Justine Greening said today.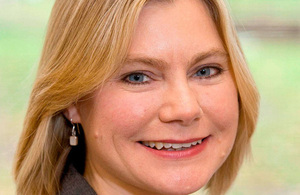 Speaking at Standard Chartered Bank's London headquarters, the International Development Secretary called on the UN to include economic growth, governance, rule of law, corruption and stability in the next set of development goals, which are set to be launched next year.
Ms Greening's announcement came as she launched two major new programmes to boost developing countries' legal skills to negotiate large, complex oil, gas and mining contracts.
In addition, a senior team of business and development experts have been appointed to advise DFID on how to support economic development in frontier and developing economies to end dependency on aid.
Justine Greening said:
To defeat poverty we need to go beyond traditional aid. Building schools, vaccinating children and improving sanitation will continue to be absolutely fundamental and we will keep doing it.

But they are not the whole answer to getting a country on a sustainable path out of aid dependency.

The poorest people in the world aren't just going hungry. They want justice, they want a voice, they want jobs, they want to own their own land and grow their own businesses.

I believe the next set of development goals needs to include economic growth, governance, rule of law, tackling corruption, peace and stability, and putting women and girls first.

With a strong and united voice in support of peace, jobs and justice, together we can build more peaceful, prosperous, more open, more successful societies.
The UK's new programmes include:
A major programme to help poor countries access world class legal skills to negotiate complex commercial contracts. The Department for International Development will invest £7 million in the African Legal Support Facility, which provides high quality commercial and pro-bono international legal advice to African governments and law firms.

Over the next three years, this will help African Governments to negotiate better oil, gas, mining and infrastructure deals. It will also provide training to local African law firms. To date, about half of the advice contracts have been awarded to UK legal firms through open competition.

The International Development Secretary is also set to commit £34 million to increase transparency around the extractives industry, tackling corruption and helping developing countries transform their natural resources into sustainable economic growth.

An Economic Development Advisory Group will provide advice on the Department's strategy. Chaired by Justine Greening, its membership will include DFID's Permanent Secretary Mark Lowcock, Executive Director of Accenture Development Partnership Gib Bulloch, President of Mars Chocolate UK Fiona Dawson, CEO of Kantar Eric Salama, Director of the Shell Foundation Chris West and Chair of CDC Graham Wrigley. The move follows Justine Greening's recent appointment of the Department for International Development's first ever Director General for economic development.
The Millennium Development Goals (MDGs), a set of 8 poverty targets set by the UN in 2000, are due to expire next year. Negotiations on the next set of goals will begin in January 2015, with the final set of goals to be launched in September.
General media queries
Follow the DFID Media office on Twitter - @DFID_Press
Published 7 July 2014