Press release
Green light for Kingskerswell Bypass
Devon major road scheme to begin.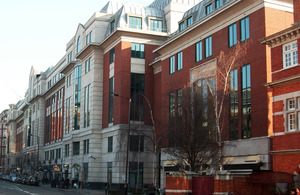 Secretary of State for Transport Justine Greening has today (8 May 2012) announced that work can begin on major road scheme in Devon.
The Kingskerswell Bypass, worth £109.2 million, will see over three miles of dual carriageway linking Newton Abbott and Torbay and a flyover section at Penn Inn, bringing both economic and environmental benefits to the local area.
Justine Greening said:
The Department for Transport has invested over £76 million in this scheme, which will cut congestion on Devon's roads, as well as benefiting the environment and the local economy.

This bypass will provide an alternative to driving through the middle of the village which currently sees very heavy traffic, particularly over busy holiday periods.

The people of Kingskerswell will no longer have to put up with endless traffic jams, exhaust fumes and trucks thundering through the village and the road will really open up Torbay for tourism, creating jobs while providing a more pleasant drive for locals and visitors alike.
Chief Secretary to the Treasury, Danny Alexander, said:
The government is determined to make Britain's infrastructure fit for the 21st century, helping to rebalance the economy and drive growth in all regions of the UK.

I am delighted to approve this funding to deliver the Kingskerswell Bypass, which is critical to growth in the Newton Abbott and Torbay areas.
The road is expected to cut the daily flow of traffic through the village by more than 90% and deliver significant improvements to local air quality.
The Kingskerswell Bypass was one of 20 schemes given initial approval in the Chancellor's autumn statement last year. Preliminary work will start later this month, with the main construction phase set to begin in the autumn. Work will be completed in December 2015.
Notes to editors
Today's (8 May 2012) announcement grants Full (final) Approval to the Kingskerswell Bypass major public transport scheme.
The department will provide £76.39 million towards the scheme.
The scheme comprises a new 3.4 mile dual carriageway on route from Newton Abbot to Torbay. The key components are the Penn Inn flyover near Newton Abbot, dualling of the existing road to the North of Kingskerswell and a new dualled road bypassing the centre of Kingskerswell passing to the west of the main body of the village.
Related documents
Press enquiries: 020 7944 3066
Out of hours: 020 7944 4292
Public enquiries: 0300 330 3000
Published 8 May 2012