News story
Green Investment Bank Advisory Group members appointed
The group, chaired by Sir Adrian Montague, will advise Ministers on the establishment of the Green Investment Bank and its strategic direction…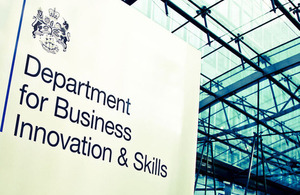 The group, chaired by Sir Adrian Montague, will advise Ministers on the establishment of the Green Investment Bank and its strategic direction.
The bank will become a key component of the Government's green policies and will accelerate the UK's transition to a green economy.
The nine members have a wide range of experience and capability in finance, from building and running institutions to project finance and making transactions.
The group also includes first rate expertise in green economics, sustainable and responsible financial services and development banking.
Business Secretary Vince Cable said:
"I am very pleased that we have secured such an excellent mix of people. The group has wide-ranging credentials relating to energy and other environmentally important industries, hands-on financing experience and a deep understanding of infrastructure projects. We also have people with a background of starting up new credit institutions and managing a development bank."
Advisory Group Chairman Sir Adrian Montague said:
"I have worked closely with Vince Cable to select the nine members to join me on the Green Investment Bank Advisory Board. They all bring a wealth of experience with them and I can't wait to start work with the group during this critical and exciting time in the development of the Green Investment Bank."
The first meeting of the Advisory Group will be on Tuesday 6 September.
Notes to editors:
1. Sir Adrian Montague was appointed as the Chair of the Advisory Group on 24 May 2011 as part of Business Secretary Vince Cable's update to Parliament on the design of the GIB. Further information can be found at www.bis.gov.uk/greeninvestmentbank. Sir Adrian is the non-executive Chairman of 3i, Anglian Water Group Ltd, Hurricane Exploration and CellMark Investments AB, a supplier of biomass for renewable regeneration technologies. Sir Adrian is also non-executive director of Skanska AB, a recognised leader in green construction. His work at British Energy is an important part of his experience of the low carbon industries.'
The nine members appointed to the Advisory Group are:
Simon Brooks, UK Vice President, European Investment Bank. Simon is responsible for EIB's Climate Action and other environmental lending policies.
John Burnham, former Managing Director and global Head of Infrastructure, Citigroup. John's work has included advising on project financings, privatisations, restructurings, capital raisings, private equity funds and takeovers in power and water utilities.
David Gregson is Chairman of Phoenix Equity Partners. He is a trustee of WWF-UK and a director of the Olympic Park Legacy Company.
Melville Haggard, Managing Director, Quartermain Advisers Limited. Melville is on the investment committee of the London Waste and Recycling Board and a former advisor on the Department for Environment, Food and Rural Affairs' Waste Infrastructure Delivery Programme.
Dima Rifai, Managing Partner, Paradigm Change Capital Partners LLP.
Dima established Paradigm Change Capital Partners in response to a clear need for attracting large-scale capital from institutional investors to the low carbon sector. Her career spans 25 years working globally, with deep experience in finance across all asset and investor types, the last five of which have been dedicated to the green industry.
Penny Shepherd, Chief Executive, UKSIF (UK Sustainable Investment and Finance Association), which promotes responsible investment and other forms of finance that support sustainable economic development, enhance quality of life and safeguard the environment. Penny was the first Chief Executive of the London Sustainability Exchange and has been a member of the Mayor of London's Sustainable Development Commission. She has an MBE for "services to sustainable economic development and socially responsible investment".
James Smith, Former Chairman of Shell UK. James is on the board of the Carbon Trust and on advisory boards on energy and climate change at Imperial, LSE, London Southbank and UCL. While he was at Shell, he actively promoted Shell Springboard, which supports innovative, low carbon business ideas.
Lord Stern of Brentford, Professor of Economics and Government, London School of Economics and Chairman of the Grantham Research Institute on Climate Change and the Environment. He held previous posts at the European Bank for Reconstruction and Development and the World Bank. Lord Stern produced the landmark Stern Review on the economics of climate change.
Bob Wigley, Chairman, Yell Group, former Chairman of Merrill Lynch Europe, Middle East and Africa and chaired the Green Investment Bank Commission which reported in July 2010.
The Advisory Group will only have a consultative role, it will not be making decisions regarding any individual investments made during the incubation phase.

The Chair and members will be unpaid and will provide their time on a voluntary basis. Terms of Reference for the group can be found at: www.bis.gov.uk/assets/biscore/business-sectors/docs/g/11-942-green-investment-bank-advisory-group-tor.pdf.

The Government committed in the 2011 budget to fund the GIB with £3 billion over the period to 2015. Accordingly, the GIB will evolve over three phases:
Incubation from 2012 to State Aid approval. Government will make direct investments.
Establishment as a stand-alone institution following approval
Full borrowing powers from 2015, subject to public sector net debt falling as a percentage of GDP.
BIS's online newsroom contains the latest press notices, speeches, as well as video and images for download. It also features an up to date list of BIS press office contacts. See [http://www.bis.gov.uk/newsroom](http://www.bis.gov.uk/newsroom) for more information.
Notes to Editors
Contact Information
Name BIS Press Office Job Title
Division COI Phone
Fax
Mobile
Email NDS.BIS@coi.gsi.gov.uk
Name Rebecca Murrell Job Title
Division Department for Business, Innovation and Skills Phone 020 7215 6403 Fax
Mobile
Published 31 August 2011