World news story
Green Innovations are GREAT
British Ambassador made a presentation at Dreamups Sustainability Lab.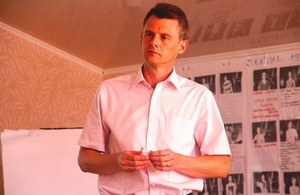 British Ambassador Phil Batson delivered a presentation at Dreamups Sustainability Lab in Costesti, organised from 26 July to 4 August.
Dreamups Sustainability Lab in Moldova is an interactive training course on the topic of Eco-innovation and solutions creation for the challenges that communities face. The Lab was supported by the European Youth Programme and gathered participants from Moldova, Ukraine, Austria and Denmark.
At the Lab Ambassador Phil Batson delivered a presentation "What a waste!" (For more information: UK Policy on reducing and managing waste) showing UK solutions towards waste management and how the government is working with civil society and communities in order to reduce waste creation. He also shared his personal experience in managing waste and being sustainable and flagged up some informal systems of waste management witnessed during two of his previous postings in India and Tunisia.
After 10 days of training workshops and meetings, participants built and presented their creative sustainable do-it-yourself solutions, among which a water filter, solar water heater, bottle irrigation system and solar cooker. The main idea of the whole project was to create simple solutions which can be implemented by everybody around the world.
Published 12 August 2013