News story
Green growth for British business
Further steps on the path to a green economy that Government and businesses can take have been published to help economic growth.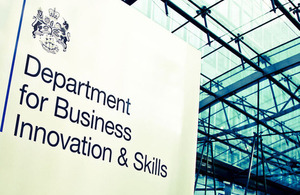 'Enabling the transition to a green economy: Government and Businesses working together' looks ahead to 2020 and maps out planned Government action across areas including climate change, resource efficiency, waste prevention, carbon capture and storage, offshore wind generation, and the Green Deal.
It will form the basis for continuing dialogue between government, business and communities.
View the full set of documents on the Business Link website.
Publishing the document, Environment Secretary, Caroline Spelman, said:
"The government's objective of reducing the deficit and strengthening the economy goes hand in hand with our ambition to be the greenest government ever.
"Moving to a green economy presents huge opportunities for British businesses not only to reduce their environmental impact, but also to transform products and services, develop cleaner technologies, and capture new international markets."
Moving to a green economy
Government and businesses are engaged in an ongoing dialogue to ensure that the UK remains competitive and seizes business opportunities as it moves to a green economy.
It also sets out commitments from government on actions it will take to support businesses and help establish the clarity needed to underpin private sector investment. These include
Promoting international action.
Attracting investment in infrastructure.
Proportionate environmental regulation which minimises the burdens on business.
Voluntary agreements as an alternative to regulation; and equipping the work force with the right skills.
Business Secretary, Vince Cable, said:
"Businesses need to prepare for a low carbon future; and minimise the risks in the fossil fuel economy; and maximise the opportunities arising from green technologies.
"We have produced Enabling the Transition to a Green Economy in response to businesses who have told us that they needed greater clarity on what environmental policy means for them."
Energy and Climate Change Secretary, Chris Huhne, said:
"British businesses hold the key to making a success of the green economy and the Coalition wants to do everything it can to dismantle the barriers to making that happen.
"In the end game, British business will be better off from the more stable and secure economy that will come from reducing our dependence on fossil fuels."
Links
Published 5 August 2011