Green growth: Business to help beat resource scarcity
Natural resources – such as food, water and energy – will come under extreme pressure within 20 years, says a new report released today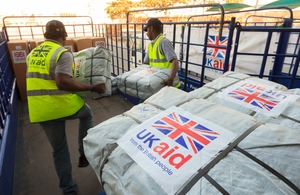 The latest European Report on Development shows that demand for energy and water is expected to grow by 40% and food by 50% by the year 2030.
Poorer countries will be hardest hit as populations continue grow and the consumption of resources increases as a key means of economic growth.
The report - supported by DFID - highlights how businesses, aid agencies and governments must work together to deliver clean, renewable energy, new technology and protect natural resources in some of the poorest countries.
It comes ahead of next week's international Rio+20 summit - convened by the United Nations to look at sustainable development, poverty reduction and environmental protection.
Britain backs the focus on green growth and the ability of business to help deliver sustainable development. In April, the UK announced new support for innovative private companies to bring sustainable energy to some of the poorest countries across Africa and Asia.
In Ethiopia, UK aid will also provide incentives for companies and industries to grow by becoming more energy and resource efficient, and we will offer incentives for entrepreneurs to develop new green businesses.
Speaking at the report's launch, Development Minster Stephen O'Brien said:
We cannot ignore the simple fact that our natural resources are increasingly scarce, condemning some of the very poorest into even deeper poverty.

For too long the power of the private sector has been forgotten in the fight against global challenges. We must harness the enterprise, skills and resource of the private sector to help meet the rising demand for water, food and energy.

At next week's conference in Rio, Britain will urge rich and poor nations alike to turn their words into actions and help tackle the global threat of climate change and boost green growth.
Beyond business, Britain continues to invest in ground-breaking innovation. Research into drought-resistant maize, funded by DFID, won 'Best Technological Breakthrough' at the Climate Week Awards. Farmers in 13 African countries now have access to 34 different drought tolerant varieties.
Last month, DFID's senior economist Hannah Ryder also won best blog in the Observer Ethical Awards for her discussions around the challenge of green growth and sustainable development. Read her updates at: http://blogs.dfid.gov.uk/author/hannahryder/
Published 11 June 2012