News story
Green bank opens for business
The ground breaking institution has been funded with £3 billion of Government money and will mobilise additional private capital to make a significant…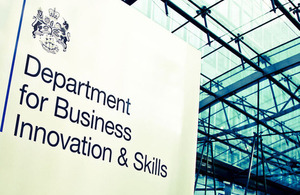 The ground breaking institution has been funded with £3 billion of Government money and will mobilise additional private capital to make a significant contribution to the development of a green economy.
Speaking in Edinburgh where the new bank is headquartered, Dr Cable revealed that UK GIB had made its first investment since becoming operational, committing an initial £8 million to a project in the North East of England that will generate energy from waste. This will attract a further £8 million of matching private sector funding.
The construction of an Anaerobic Digestion (AD) plant at Teesside is the first of six planned over the next five years, making it the largest single AD project in the UK. The investment, made through fund manager Greensphere Capital, is part of a £80 million investment programme by UK GIB in small waste projects.
Vince Cable said:
"The Green Investment Bank - a key coalition pledge - is now a reality. It will place the green economy at the heart of our recovery and position the UK in the forefront of the drive to develop clean energy.
"Three billion pounds of government money will leverage private sector capital to fund projects in priority sectors from offshore wind to waste and non domestic energy efficiency, helping to deliver our commitment to create jobs and growth right across the UK. Having the headquarters in Edinburgh is a powerful vote of confidence in the Union, and a testimony to our commitment to helping Scotland lead the green revolution."
The Business Secretary also announced that UK GIB will invest £5 million to retrofit Kingspan's UK industrial facilities with systems and services that will reduce its energy consumption by as much as 15 per cent. This investment, through Sustainable Development Capital, is UK GIB's first project supported in its £100 million non-domestic energy efficiency investment programme.
Dr Cable made the investment announcements with the Bank's Chair Lord Smith of Kelvin and Chief Executive Shaun Kingsbury at a stakeholder event in Edinburgh to officially launch UK GIB. They were joined by Energy Secretary Edward Davey, Scotland Secretary Michael Moore and Energy Minister Greg Barker.
The Secretary of State for Energy and Climate Change Edward Davey said:
"The Green Investment Bank will help attract the capital required to allow the green economy to blossom, encouraging investors to market and kick-starting low-carbon and energy efficiency projects. In combination with our electricity market reforms, there will be lasting economic benefit as a result, with new expertise and jobs created, that will give the UK a competitive edge."
The Secretary of State for Scotland Michael Moore said:
"The UK Green Investment Bank is now ready to have a real and positive impact on investment in our green and renewables sectors that will take them into new areas and opportunities. We have the best of both worlds: a headquarters in Edinburgh, at the centre of Scotland's thriving businesses and asset management, coupled with a team based in London, the world's leading financial centre.
"The next step is to put that expertise into action and mobilise the additional investment we need to take the UK towards a greener economy. This is the first bank of its kind in the world and this government has delivered it for Scotland and the rest of the UK."
UK Green Investment Bank Chair Lord Smith said:
"The Green Investment Bank has the potential to be a game-changing component of the UK's low carbon economy, and a profitable centre of excellence in specialist and renewable investment.
"Over the coming months and years, I am confident that our excellent team will put its many years of expertise to work on building the foundations of that sustainable economy, and facilitating the important investments that will ensure its long-term good health."
Earlier this year the Bank was established as a public company, UK Green Investment Bank plc. Following state aid approval from the European Commission last month it is now operational as an independent bank and open for business.
In the period before state aid approval for UK GIB, investments have been made on commercial terms by BIS's UK Green Investments team (UKGI). To date, UKGI has committed £180 million to specialist fund managers to co-invest equity in smaller waste infrastructure, energy from waste, and non domestic energy efficiency projects. Assets built up by UKGI have transferred to the UK GIB.
Notes to editors:
In May 2012, UK Green Investment Bank plc was formed as a public company. Lord Smith of Kelvin was appointed as Chair and Sir Adrian Montague as Deputy Chair and Senior Independent Director.
In September 2012 Shaun Kingsbury was appointed as Chief Executive along with six non-executive directors - Professor Dame Julia King, Fred Maroudas, Tom Murley, David Nish, Professor Isobel Sharp CBE and Tessa Tennant.
In October 2012 UK GIB was granted state aid approval by the European Commission and became fully operational.
The Government is committed to setting the UK firmly on course towards a green and growing economy. The transition to a green economy presents significant growth opportunities for UK-based businesses, both at home and abroad. This progression requires unprecedented investment in key green sectors. The UK GIB will be uniquely placed to facilitate the transition to a green economy base by addressing the market failures affecting green infrastructure projects. These failures have led to significant under investment in the key areas required to deliver this transition. Capitalised with £3 billion, the GIB will complement other green policies to help accelerate additional capital in green infrastructure.

State aid approval from the European Commission allows the Bank to make investments, on commercial terms, across the following sectors:
Priority sectors:
Offshore wind

Waste (treatment and recycling and energy from waste)

Non domestic energy efficiency
Other sectors:
Biofuels for transport

Biomass power

Carbon capture and storage

Marine energy

Renewable heat
The Department for Energy and Climate Change is in discussion with the European Commission separately to seek state aid approval for the longer term financing arrangements for the UK's Green Deal initiative.
The UK GIB will be based in Edinburgh and London. Its headquarters will be located in Edinburgh, with an office in London. This arrangement will enable a greater commercial reach nationally than could be achieved from one location.
Anaerobic Digestion plant
The investment in Anaerobic Digestion, made through fund manager Greensphere Capital, is part of a £80 million investment programme by the UK GIB in small waste projects. When fully constructed and operational, the six AD plants will deliver a combined capacity in excess of 30 MW hours of electricity to the national grid diverting over 550,000 tonnes of waste a year otherwise destined for landfill.
Kingspan investment
The plan to retrofit Kingspan's UK industrial facilities is expected to be the first investment by fund manager Sustainable Development Capital's (SDCL) UK Energy Efficiency Investments fund, which was launched in August this year. The fund seeks to invest in projects that reduce demand for energy, cut energy costs and improve productivity in non-domestic buildings, industrial facilities and urban infrastructure in the UK.
The projects will be designed and delivered by Johnson Controls Inc, a global company offering products and services to optimise energy and operational efficiencies of buildings. The first project will take place at Kingspan's Holywell factory in North Wales and is due to commence in December this year. The factory is part of Kingspan's insulated panels division and is the largest panel factory of its kind in the world. The project will involve the installation of energy metering, building management systems, lighting, motor replacement and compressed air and fan optimisation measures, designed to reduce electricity consumption by up to 15 per cent.
The Government's economic policy objective is to achieve 'strong, sustainable and balanced growth that is more evenly shared across the country and between industries.' It set four ambitions in the 'Plan for Growth' (PDF 1.7MB), published at Budget 2011:
To create the most competitive tax system in the G20

To make the UK the best place in Europe to start, finance and grow a business

To encourage investment and exports as a route to a more balanced economy

To create a more educated workforce that is the most flexible in Europe.
Work is underway across Government to achieve these ambitions, including progress on more than 250 measures as part of the Growth Review. Developing an Industrial Strategy gives new impetus to this work by providing businesses, investors and the public with more clarity about the long-term direction in which the Government wants the economy to travel.
BIS's online newsroom contains the latest press notices and speeches, as well as video and images for download. It also features an up to date list of BIS press office contacts. See http://www.bis.gov.uk/newsroom for more information.

Media enquiries for UK Green Investment Bank should be directed to Diane Stewart on 0777 193 6674 or Omar Mohammed on 0777 094 2848.
Notes to Editors
Contact Information
Name BIS Press Office Job Title
Division Department for Business, Innovation & Skills Phone
Fax
Mobile
Email bispress.releases@bis.gsi.gov.uk
Name Rebecca Murrell Job Title
Division Department for Business, Innovation and Skills Phone 020 7215 6403 Fax
Mobile
Published 28 November 2012