Press release
Greater protection for homeowners from today
Greater protection for homeowners as the Crime and Courts Bill gains Royal Assent.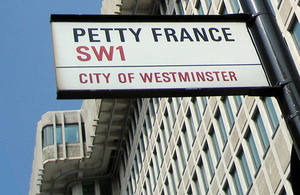 The changes to the law mean that someone who is confronted by a burglar and has reason to fear for their safety, or the safety of their family, and in the heat of the moment uses force that is reasonable in the circumstances but in the cold light of day seems disproportionate will not be guilty of an offence. Force which is 'grossly' disproportionate will still not be permitted.
Justice Secretary Chris Grayling said:
"I have always said we must be on the side of the law abiding majority, that is why I have strengthened the law to give householders greater protection from intruders. Householders who act instinctively and honestly in self defence are victims of crime and should be treated that way.
"Alongside this change to the law I am also bringing forwards a range of radical reforms to our court service so we can deal swiftly and effectively with both criminal and civil cases."
The Crime and Courts Bill, now known as the Crime and Courts Act 2013, will bring in a series of reforms to the court system, the judiciary, criminal law and sentencing. These include:
introducing Broadcasting in Courts – to open up the justice system and improve the public's understanding of the court process filming of court proceedings will be permitted for the first time. Broadcasting will begin in the Court of Appeal with legal arguments from counsel and for judgments. The Government intends to extend to sentencing remarks in the Crown Court over time.

strengthening Sentences – to ensure that community sentences provide rehabilitation with punishment, courts will now be required to include an element of punishment such as a curfew or unpaid work as part of every sentence. In addition, courts will be given new powers to access offenders' tax information so that those who do not pay their fines can be easily chased and they can be charged extra fees for fine collection.

tackling Financial Crime – Deferred Prosecution Agreements will provide prosecutors with an effective new tool to tackle corporate economic crime. They will enable more organisations involved in wrongdoing to be brought to justice, and secure better faster outcomes for victims.

clamping down on Legal Aid – to help ensure wealthy criminals pay for any legal aid they have received, courts will be able to recover costs from their 'frozen' assets, which will also be used to compensate for victims, recover any proceeds of crime and most importantly make sure that the taxpayer is not left to foot the bill.

improving Judicial Diversity – to increase the diversity of the judiciary flexible working will be introduced at the High Court and above, a 'tipping point' provisions will be considered when two judicial candidates are of equal merit and a legal duty will be place on the Lord Chief Justice and Lord Chancellor to encourage judicial diversity.

streamlining the Civil and Family Courts – to create a simpler and more efficient civil and family court system a single County Court and a new Family Court will be created so that cases can be dealt with more quickly to protect vulnerable children and resolve disputes more speedily.
These changes will come into effect over the forthcoming months and into next year.
Information about how the justice system works, how judges reach their sentencing decisions and how courts in each area are performing is available on the Open Justice website.
Self Defence - The current law permits a person to use 'reasonable force' to defend himself (either in his home or on the street), to protect others, to prevent crime or to protect property. Section 76 of the Criminal Justice and Immigration Act 2008 tells courts how to assess whether the degree of force used by the defendant when acting for one of these purposes was 'reasonable in the circumstances' as he or she genuinely believed them to be. If somebody acts honestly and instinctively in self defence that will be strong evidence that the use of force was reasonable in the circumstances as he or she believed them to be. But the use of disproportionate force is not currently lawful in any circumstances.
For more information, please call the Ministry of Justice press office on 020 3334 3536. Follow us on twitter @MoJGovUK
Published 25 April 2013