Press release
Greater Manchester heads way on sustainable food production
Greater Manchester can put itself on the map as a low carbon metropolis, Environment Minister Lord de Mauley said today ahead of his visit to…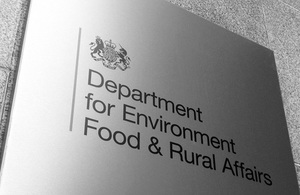 Greater Manchester can put itself on the map as a low carbon metropolis, Environment Minister Lord de Mauley said today ahead of his visit to a number of businesses in the region.
Lord de Mauley will hear from local authorities and visit sites across the region to recognise Greater Manchester's position as a Low Carbon Hub - pioneering new low carbon initiatives and bringing investment, jobs and vital research and development opportunities to the region.
Lord de Mauley will visit Real Food Wythenshawe, a community-led programme that has a mission to make reasonably priced, sustainably produced and locally grown food available to the people of Wythenshawe. It will work within the abundant green spaces of the area to create both indoor and outdoor growing projects.
As well as encouraging local people to grow their own food, the project will also teach essential cooking skills, educate people about the value of eating local, seasonal produce, encourage healthier diets and support business enterprise based around sustainable food. The programme was awarded £1,000,000 of BIG Lottery funding in September 2012.
Lord de Mauley said:
"Greater Manchester could really stake a claim as one of the leading low carbon areas in the country. The projects and businesses I'm seeing today really show that with imagination, creativity and determination businesses can succeed that are good for the economy and the environment.
"UK businesses have huge opportunities to encourage sustainable growth. Growing the economy and improving the environment go hand in hand and I'm keen to see how community projects like Real Food are grasping the opportunity to demonstrate this."
The project will be based at The Manchester College, which will also be the site of Real Food's new Biosphere, an indoor growing system that will showcase cutting edge technologies and which will be used as a community and schools resource when it opens in 2013/14.
While there he will also hear about plans to develop an outdoor growing hub in nearby Wythenshawe Park working with Manchester's Learning Disability Partnership and BITE; a project of the charity Manchester MIND and Manchester Health and Social Care Trust. The hub will provide enterprise opportunities, including a vegetable box scheme.
Following his visit to Wythenshawe Lord de Mauley will head to Trafford Park where he will visit Axion Recycling, Enworks, a business support programme and EOC, who work in the chemicals sector.
Axion are at the cutting edge of recovery and recycling and run a number of industry leading recycling schemes for carpets, PVC windows and pipes, and resilient flooring.
Lord de Mauley continued:
"Visiting the North West will give me the chance to see how the plant is benefitting both the local economy, the environment and people. This is innovation in action. They are not only saving money for businesses and people, but making the best possible use of things that might otherwise be thrown away."
He will also be meeting sustainable business consultancy Enworks. They have been running in the North West region for over ten years, helping businesses to increase their profitability and reduce their carbon emissions, by improving resource efficiency.  Since 2001, Enworks has helped more than 12,000 businesses in the North West of England to become more sustainable, saving them over £138 million to date
EOC Ltd produce latex-based compounds for the textile and paper industries. Working with Enworks, EOC Ltd has improved the efficiency of its production processes, fuel consumption and compressed air systems, and minimised its scrap materials and waste to landfill - saving around £130k.
Published 22 November 2012