Press release
Greater Ipswich City Deal: multi-million pound investment in skills secured
Businesses and local authorities join forces with government to invest £18 million to equip people with the skills local businesses need.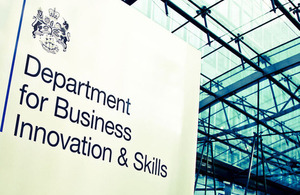 Businesses and local authorities are joining forces with government to invest more than £18 million in equipping people with the skills local businesses need to grow as part of a local approach to skills.
The investment will be used to fund projects set out in the Greater Ipswich City Deal including a new youth employment centre in Ipswich and an incentive scheme to encourage businesses to invest in training.
The announcement follows a successful bid led by Ipswich Building Society and supported by Suffolk County Council as part of the government's Employer Ownership Pilot to secure a £5 million government grant that will be used in conjunction with other financial commitments agreed in the Greater Ipswich City Deal.
Skills Minister Nick Boles said:
This investment will ensure that young people in Suffolk are equipped with the skills they need to start a great career. By giving employers the power to design and deliver skills training, we can ensure that businesses in Suffolk are able to realise their growth ambitions.
Business and Enterprise Minister Matthew Hancock said:
By working together with local employers we're investing in the future of Suffolk. Skills lie at the heart of a sustainable economic recovery and that's why we're committed to ensuring that every young person is able to fulfil their potential.
This total investment includes at least £4.5 million of investment in skills and training by local businesses in Suffolk and Norfolk and will fund employer-designed projects that will aim to halve youth unemployment in the Greater Ipswich area over the next 2 years.
Paul Winter, Chief Executive of Ipswich Building Society and Chair of the Greater Ipswich City Deal Board said:
Ipswich Building Society was delighted to lead the bid for the Employer Ownership Pilot fund. The success of this bid will help the Greater Ipswich City Deal achieve its objectives. I look forward to seeing how we can have a real impact on improving the employability skills of local young people.
This investment will fund:
MyGo, a new youth employment centre in Ipswich for 16 to 24 year olds which will open next month (December 2014). The centre will help at least 3,500 young people move into work by offering free training, as well as career and employment support
an employer led partnership of schools, post-16 and higher education providers that will deliver mentoring, summer schools and work related activities that will increase young people's experience of growth sectors
School Work Clubs, offering tailored support to year 11 students in Suffolk to help them to make a successful transition into post-16 education or to begin an apprenticeship
a training cash incentive for employers in Suffolk and Norfolk to encourage employers to invest in training and developing the local workforce
a programme calling on employers to encourage and support young people to understand the relevance of science, technology, engineering and maths in the local economy
The Greater Ipswich City Deal was agreed with government to provide the local area with additional powers, flexibilities and investment to drive local growth and is part of a wider strategy to enhance the skills system across Suffolk and Norfolk. The focus of the deal is to tackle challenges in the local economy, and place employers at the centre of decision making.
Councillor Lisa Chambers, Suffolk County Council's cabinet member for education and skills, said:
There are many opportunities available through this funding. It will enable young people a greater chance of finding a job and sustained employment, help provide our local workforce with extra training and ensure our skills system is linked to future growth opportunities.

I'm delighted to see the public and private sectors working together to ensure that young people in our area are helped to get a good, skilled job.

This funding will also help to remove some of the barriers young people come up against when entering the workplace and help create a successful transition into sustained employment or learning.
Notes to editors:
Project Funding:

government funding: £5,000,000
further contributions: £12,060,000
in-kind contributions: £1,269,128

The Employer Ownership of Skills Pilot is a £340 million competitive bidding fund that invited employers over 2 rounds to tell government how they would better use public investment, alongside their own to invest in the skills of their current and future workforce. The fund is for England only. It is jointly funded by the Department for Business, Innovation and Skills (BIS) and the Department for Education (DfE). The project was developed in conjunction with the UK Commission for Employment and Skills (UKCES).
Published 4 November 2014