World news story
Great opportunities in Podlaskie region
British Ambassador to Poland Robin Barnett visited Podlasie on 14-15 July.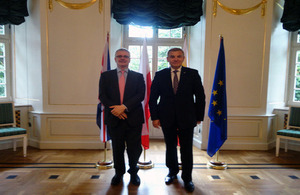 As part of the Embassy's active programme to expand political and commercial contacts with Poland's sixteen regions, ambassador Robin Barnett paid a visit to Bialystok and the Podlaskie region in the East of Poland on 14-15 July.
The main aim of the trip was to develop an action plan for enhancing our trade and investment engagement in a region which offers real opportunity for British business. But the ambassador also discussed the wider economic, social and political situation in the region, discussed opportunities for further British investment there and celebrated the diversity of Podlaskie. Both the concrete nature of the discussions and the warmth of the welcome throughout were noteworthy.
Ambassador Robin Barnett had productive discussions with the local authorities in Podlaskie region - Wojciech Dzierzgowski (Deputy Voivod), Jacek Piorunek (Marshall's Office) – as well with Tadeusz Truskolaski (Mayor of Białystok), and representatives of the local business community. The outcome was an agreement on a series of concrete steps to increase the engagement of British business in Podlaskie.
Ambassador Barnett also got acquainted with the heritage of the Polish Tatars in Kruszyniany – three years after His Royal Highness Prince Charles had visited the local mosque and met this small Muslim community, who have lived peacefully in Eastern Poland from as early as the 13th Century. He later met with representatives of the local Roman Catholic and Orthodox churches.
The ambassador also had a meeting on internal politics with Senator Włodzimierz Cimoszewicz in Białowieża National Park - the only Polish natural property designated by UNESCO as a World Heritage site. This felt like a world away from the hustle and bustle of Warsaw.
The ambassador was accompanied by Małgorzata Śmierzycka (Head of Communications) and Martin Oxley (Director, UK Trade & Investment Poland).
Published 16 July 2013