World news story
GREAT events in Iceland
This was published under the 2010 to 2015 Conservative and Liberal Democrat coalition government
The British Embassy in Reykjavik ran a series of GREAT themed promotional events in Iceland from September 2014 to February 2015 focused on British food and drink, tourism, automotive and fisheries sectors.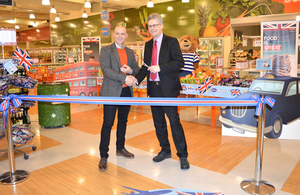 With flights now operating from Iceland to nine different UK airports Icelanders are increasingly travelling to the UK to shop, take a holiday, do business and study at UK universities. Building on this interest the UK Trade and Investment team in Iceland ran a series of events to promote British goods and services. Specifically the aim was to promote British food and drink, provide a platform for UK exporters to showcase their products, to increase UK exports to Iceland, increase the diversity of British products available, and to promote the UK as a travel destination for Icelanders. A wide range of events were held over the five month period.
The Icelandic Fisheries Exhibition, IceFish 2014, and the Icelandic Fisheries Awards 2014: Around 30 UK companies participated in the event. Two GREAT sponsored awards at the ceremony; Best new product launched at show and Best individual small stand. HM Ambassador Stuart Gill presenting the awards.
Lunch Seminar on Innovation and R&D in the Maritime Sector: Speakers included Dr. Risto Talas, Hull University Logistics Institute. A Networking Lunch sponsored by UKTI Iceland was held after the seminar.
easyJet launch and breakfast meeting: An opening ceremony and reception at Keflavík airport to celebrate eastJet´s new flight route between Keflavík and London Gatwick with Iceland´s Minister of Industry and Commerce in attendance. An easyJet breakfast meeting was also organised, where the company introduced their business travel options to Icelandic companies. Other speakers included John Strickland, an independent aviation consultant.
Meet the Buyers Event: A table top reception was held where British producers and suppliers in the food and drink sectors promoted their products and were introduced to Icelandic wholesalers and companies. Introductory meetings were arranged and the producers and suppliers were given a tour of the largest stores in Iceland.
Jaguar-Land Rover: A global media launch for the new Land Rover Discovery Sport took place in Iceland 8 December 2014 to 5 February 2015. Media representatives were able to test drive a Land Rover Discovery Sport in rough Icelandic conditions; snow, icy mountain roads and rivers.
British days: For 10 days in February it was all about British food and drink in the Hagkaup stores, an Icelandic supermarket chain. Many new products were available for Icelandic consumers, and products previously available were specially labelled with the Union Jack. A ceremony was held where the British Ambassador to Iceland and the CEO of Hagkaup opened the British Days formally. A new Land Rover Discovery Sport was displayed outside one the flagship Hagkaup store attracting a high level of attention. The activity attracted a good level of media exposure with British Days advertised daily both online and in news papers, and pictures of the Union Jack and British products were highly visible. Ambassador Gill wrote an op-ed which was published in Iceland´s most widely distributed newspaper and the Embassy ran a social media campaign. Marketing material was also created for every Hagkaup store in the capital area. A competition was held were people could win flight tickets to London with easyJet every day during the British Days.
Even though this 5 month period of GREAT themed activities has now come to an end, it can certainly be said that this is just the beginning. This is an ongoing project and the preparation for another series of British activities has already been started.
Document information
Published: 27 February 2015