World news story
GREAT Education: Studying in the UK, the partner's perspective
As part of our Education is GREAT campaign, we are sharing testimonies of students who studied in the UK. This week, Daniela, who is the wife of a student, tells us about her experience accompanying her husband to the UK.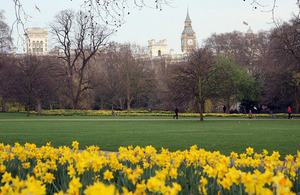 My name is Daniela. I accompanied my husband to Leeds, England, where he was a student for one year. During my stay I was able to work and I became a mother for the first time. I want to share with you the magnificent experience I had, as well as share some useful tips that I think will be helpful for those who are going to be in a similar situation.
Helpful tips:
Use the internet. Everything you need you can find online. The first thing you should do is go to the webpage of the council of the city where you are living, and find out as much as you can about the city. These web pages generally have information about tourism and cultural events, activities, maps, and advice, and you can also look for information about any specific interests you may have. This can be a real help when you first arrive in the UK.

It's important to explore the city, to visit places like libraries and museums, where you can also find useful information.

Generally the universities have offices that organise activities and events for families or partners, which can help to keep you busy.

Regarding finding jobs, you can upload your resume online and see if anyone is interested. You must always declare what type of visa you have. You should also go to a job centre and get a national insurance number. Meanwhile, it never hurts to volunteer – you will meet many people and keep busy.

If you need to find your way anywhere, always look the address up beforehand on Google. The easiest way of doing it is to put the postcode in the search box and it will show you how to get there.

In some towns such as Leeds, there is a free bus service that takes you around the centre of the city and to the most important places. When you first arrive, take this bus in order to get to know places such as the city centre, the bus station, the train station, etc.

The health care system is free and works very well. You must register at a medical centre; the university usually requires you to do this during your first few days.

Remember that the climate in England can be very cold. Don't take clothes for cold weather from Ecuador as they will not be sufficient. Once in England, buy a good jacket or coat and winter shoes. Clothing is very cheap, surprisingly so, so this won't be a problem. Go to stores such as Millets or TKMax.

Eating in restaurants is very expensive, so it is more convenient to go shopping at the supermarket and cook at home.

Always ask for information wherever you go, there is usually a brochure or someone who can help you with whatever you need.
Published 24 October 2013