GREAT campaign launches in Shanghai
Culture Secretary Jeremy Hunt, British Ambassador Sebastian Wood, Vice Mayor Zhao Wen, Formula One racing driver Lewis Hamilton and renowned basketball player turned businessman Yao Ming attended the launch on the Huangpu River.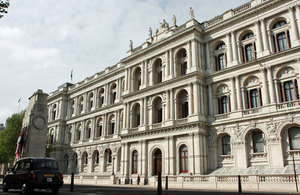 The star studded event took place on a GREAT branded boat in the centre of Shanghai, attended by local celebrities and 150 business and political guests. Find out more on the UK in China website.
Speaking ahead of the event Jeremy Hunt said:
"2012 will be an exciting year for Great Britain with the world's eyes on London for the Olympic and Paralympics Games and Queen Elizabeth II's Diamond Jubilee. We want people from across the world to be able to share in that excitement and to see the creative, dynamic, modern UK behind the celebrations. That's what Great is all about and that's the message I'm looking forward to bringing to East China this week."
The UK is in the world spotlight this year, and the GREAT campaign is part of the UK Government's drive to make the most of this opportunity as the Queen celebrates her Diamond Jubilee and the country hosts the 2012 Olympics and Paralympics.
Published 12 April 2012