GREAT campaign launches in Los Angeles with celebration of British film
On Friday 24 February UK Culture Secretary Jeremy Hunt and British Consul-General Dame Barbara Hay hosted a reception to congratulate British nominees for the Academy Awards. Entertainment industry VIPs attended the event in Los Angeles.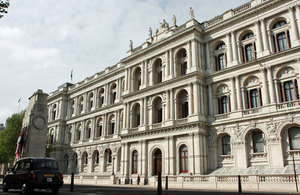 At the reception, Oscar nominees including Gary Oldman, Christopher Plummer and Kenneth Branagh were joined by Hollywood elites to celebrate all that is GREAT about British film.
At this year's Academy Awards, Britain is represented by nominees in films such as Hugo, Harry Potter and the Deathly Hallows Part 2, War Horse, Jane Eyre, The Iron Lady and Extremely Loud & Incredibly Close, and categories including Best Picture, Costume Design, Makeup, Sound Editing, Visual Effects, Adapted Screenplay and Documentary Short Subject.
Ahead of the event in LA, UK Culture Secretary Jeremy Hunt said:
"The UK has a truly world-class film industry, with amazing people both in front of and behind the camera. This not only contributes to the enormous success of Hollywood film studios but has a hugely positive impact on the British economy. As the UK gears up for The Queen's Diamond Jubilee and the London 2012 Olympic and Paralympic Games, there's no better time to celebrate the best Britain has to offer in film and creativity."
The UK will be in the world spotlight this year, and the GREAT campaign is part of the UK Government's drive to make the most of this opportunity as the Queen celebrates her Diamond Jubilee and the country hosts the 2012 Olympics and Paralympics.
Published 25 February 2012