World news story
GREAT business opportunities for Irish SME's in the UK
Irish Small and Medium enterprises mark their progression with setting up and expanding into the UK this year.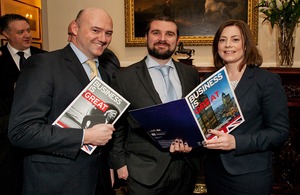 13 March 2013
Over 50 Irish SME's were represented at a reception hosted by our Ambassador, Dominick Chilcott, which was organised by UK trade & Investment (UKTI), Dublin
Simon McKeever, Director of Trade & Investment at UKTI in Dublin, was on hand to provide an overview of the many different ways that UKTI can assist Irish companies in the UK.
He said:
We are on hand to offer help and support to Irish companies in a number of different ways. So whether its help with finding a suitable location for your UK office, connectivity to local councils and other Public Sector Partners, introductions to Academia/key R&D institutions, introductions to UK services offering financial/legal/tax advice or ongoing aftercare, we are here to help you with your growing business in the UK. Our advice is free and confidential and we are delighted to help Irish SME's with their plans to grow and succeed in the UK.
As guest speaker for the evening, Bob Doyle, Head of Business Development with London and Partners also remarked on the levels of support available to Irish companies either wishing to set up in London and for those companies established elsewhere in the UK, with a view to obtaining new business in the (British) Capital.
Help and support is available through the services of both UK Trade & Investment and London & Partners. So whether it's advice on setting up offices, obtaining new business links or to enhance your networking opportunities which we recognise, is vital for the growth of your business, do come and speak to us. We are here to help.
The companies in attendance were appreciative of the welcome given by the Ambassador and also for the ongoing help and support provided by UKTI together with its UK based partners to enable the companies to achieve their UK ambitions.
In showing his gratitude for the Irish SME's Investment in the UK, the Ambassador commented:
Irish businesses should count themselves fortunate that they have an English speaking market of more than 60 million people on their doorstep. A market that has a similar business culture to Ireland's and that is used to doing business with Irish companies and Irish business people.
He went on to say:
Small and Medium sized enterprises are the backbone of a successful economy. We value your energy and enterprise, your courage and commitment, your entrepreneurial talent. We are delighted that you are bringing those skills and qualities to the United Kingdom. We shall benefit from that.
See some photographs on our Flickr Gallery, courtesy of Paul Sherwood Photography
The event was organised by UK Trade & Investment which provides help, advice and support to Irish companies that are interested in setting up in the UK and for those already established in the UK, to expand further.
For more information, please contact:
Paul Caplis, Head of Investment Tel: +353 1 2053762 Email: Paul Caplis
Published 22 March 2013