World news story
Great Britain Week in Burma, 1-7 December
UK Embassy launches the first ever Great Britain Week in Burma, 1-7 December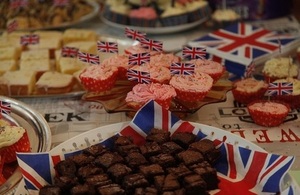 Great Britain Week 2013 was launched today: the start of a whole week of British-themed events across the country. The events aim to show the best of British business, education and culture, and to strengthen links between Burma and the UK in all of these areas.
Today hundreds of guests from the local community and from international businesses attended a garden party to launch Great Britain Week at the UK Ambassador's Residence. Leading British companies, such as principal sponsor BG Group, took part in a showcase of British business expertise. The event demonstrated the strong commitment that many UK companies have made in Burma, in sectors including energy, law, financial services, logistics and food and drink. Families enjoyed a day out with children's games and traditional British food.
British Ambassador Andrew Patrick said:
I am proud to be launching the first ever Great Britain Week here. We are holding many events to promote commercial and cultural links between our two countries, and we have had very strong support from British companies who have committed to investing here for the long term. I am delighted to welcome so many guests at our opening event, and I hope that as many people as possible will enjoy our other events throughout the week.
On Monday 2 December, Ambassador Andrew Patrick will lead Burma's first-ever Great Britain Road Show, travelling 785 miles from Rangoon to Lashio in a special Land Rover car painted with the Union Jack flag. The Road Show will visit Naypyitaw, Bagan, rural villages in the Dry Zone, Mandalay and Pyin Oo Lwin. The British delegation will hold receptions for business and civil society, meet young people learning English with support from the British Embassy and British Council, visit development and human rights projects funded by UK Aid and the Embassy, and even celebrate British sporting culture by playing football matches with local schools.
Later in the week, we will hold a series of exciting GREAT events in Rangoon, including:
On Thursday 5 December, British Ambassador Andrew Patrick will host a concert by celebrated British violinist Sebastian See-Schierenberg, playing with Rangoon's AOC String Orchestra.

On Friday 6 December, 300 children and young people from monasteries, schools and youth groups will participate in a unique performance of William Shakespeare's Macbeth at the National Theatre in Rangoon. Shakespeare is Britain's most famous playwright, and this project aims to introduce children to Shakespeare's plays in a lively and accessible way. Tickets will be available free at the National Theatre from 5.00pm.

On Saturday 7 December, Great Britain Week will close with a British Festival in People's Park, Rangoon. The Festival will begin with a five-a-side football ('futsal') tournament. Food and drink will be available all day. And in the evening, popular Burmese musicians including Phyu Phyu Kyaw Thein, Zamnu and Bloodsugar Politik will perform a free live music show starting at 5.30pm. Performances will include songs in English and Burmese, celebrating the best of British and Burmese musical culture. All are welcome: entry is free!
For more information about Great Britain Week, visit British Embassy Rangoon Facebook
Notes to editors:
Great Britain Week 2013 is being organised by UK Trade & Investment, the British Embassy and the British Council. The events have been sponsored by BG Group, Allen & Overy, Claridon Group, Prudential, and Standard Chartered Bank, with additional support from Shakespeare Schools and RMA Group.
Burmese translation can be downloaded here.
Published 1 December 2013