World news story
Great Britain guest of honour at Brussels Book Fair
Literature is Great Britain: the Brussels book fair welcomes top British authors for the 2014 Book fair!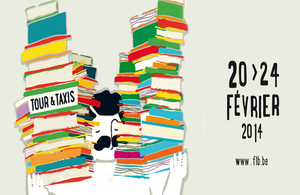 From 20-24 February, Brussels will welcome top British authors to the 2014 Book Fair as the United Kingdom is this year's featured country or "guest of honour."
History, in all its aspects, is the theme of this year's Brussels book fair and notably, the Centenary Commemoration of the First World War. The British Embassy, British Council, and English-language bookshops Waterstones and Filigranes have joined forces to bring an exciting line-up of great British authors to the UK pavilion at the Book Fair whose work connects with a number of different histories, including the First World War.
Authors include:
Jonathan Coe who has just written a thriller set in Brussels (Expo 58)
Diane Souhami (biographer of Edith Cavell) speaking on women in war
Antony Beevor (author of Stalingrad) speaking on 'Did the Second World War start in 1917'
Michael Frayn (Democracy) and Stephen Clarke (author of 1000 years of annoying the French) speaking on British humour (along with Belgian cartoonist Philippe Geluck)
A.C.Grayling (Master of the New College of the Humanities) 'Is God really there when men are killing each other'
Simon Winder (author of Germania) on the Balkans
The British Ambassador to Belgium, Jonathan Brenton said:
It's great that the Brussels Book Fair features British authors engaged with history in a year when we commemorate the centenary of the First World War. The authors will explore different challenges in writing history from some of the most difficult questions about the causes and consequences of conflict to the role and place of humour in our view of the past.
This is a joint United Kingdom effort. The British Embassy is working with the British Council, and the devolved offices of Scotland, Northern Ireland and Wales to show the full variety and richness of literature in the United Kingdom. The British Council will present new research showing how far the First World War shapes perceptions of the UK around the world and how much Western Europe still has to learn about the global consequences of 1914-1918.
I hope that as many people as possible will come to the English language bookstore, co-hosted by our commercial partners Waterstones and Filigranes. The international stand will demonstrate the value of reading and education in our engagement with First World War anniversaries.
More information on British artists and the UK as guest of honour on the website of the Book Fair.
Published 16 February 2014