World news story
Great Britain comes to Iloilo
The British Embassy Manila is bringing the best of Britain to Iloilo following the hugely successful Great British Festival in Manila.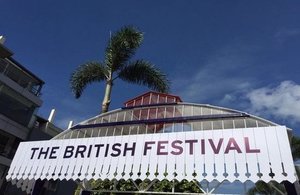 British Ambassador Asif Ahmad will officially open the Great British Festival which will run from 24-26 March in Iloilo. He will attend the ribbon cutting ceremony at the UK in Miniature exhibit in SM City Iloilo. Free movie screenings of Shakespeare and the Lady in the Van will be showing at the SM cinemas from 24 to 26 March. British retail brands Body Shop and Vision Express will also be running promotional discounts throughout this weekend.
The event is a showcase of British excellence in innovation, creativity, film, education, fashion and art. This is the first time the British Embassy is bringing the Great British Festival to Iloilo.
Ambassador Asif Ahmad said:
We want to bring the Great British Festival to people outside of Manila to experience the best of Britain. We hope that people will feel like they are in the UK and take photos with our miniature displays of iconic British landmarks in SM City Iloilo.
During his trip, Ambassador Ahmad will be accompanied by the UK Prime Minister's Trade Envoy Richard Graham. They will meet with local business leaders to explore opportunities in the region. The Ambassador will deliver a speech on education opportunities at the University of Iloilo, promoting UK education and the Chevening Scholarships Programme.
Ambassador Ahmad further explained:
Iloilo is a rapidly emerging area. We are looking to explore even more business opportunities across Visayas, to bring in new products and services from British companies, and tap into local skills and talents, including to create more jobs locally. Education is a sector where the UK has particular expertise to offer.
The visit will conclude with a tour of the Esplanade, a project initiated by Senator Franklin Drilon who is a native of Iloilo, and a visit to the statue of Nicholas Loney, who was Her Majesty's First Vice-Consul in Iloilo in the 19th century, and responsible for pioneering the sugar industry in Panay and Negros.
For more information about the Great British Festival and other events follow the British Embassy's Facebook and Twitter pages.
Published 21 March 2017