World news story
GREAT Britain Clipper yacht to compete in the Sydney to Hobart
The GREAT Britain yacht arrived in Sydney on 13 December, from where it will be competing in Australia's famous Sydney to Hobart yacht race.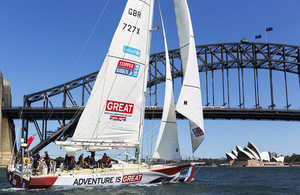 The Sydney to Hobart yacht race will host all 12 of the identical, British-designed 70-foot yachts currently competing in the Clipper Round the World Yacht Race – the world's longest ocean race.
The Clipper Race fleet arrived in Sydney on December 13 and 14 after completing leg 4 of the race, a 2,000 mile journey from Albany in Western Australia. Team GREAT Britain arrived in second place having battled strong winds and very rough seas.
Speaking at a business event hosted by the British Consulate General in Sydney on 17 December, GREAT Britain Skipper Peter Thornton praised his amateur crew saying it was a very tough race and they pushed the boat hard, at times having to deal with gusts well over 60 knots "hammering into big waves that were slamming all through the night".
He spoke of their growing confidence and ability to handle "very testing conditions" and predicted in relation to Sydney to Hobart and the rest of the Round the World race "I'd like to think we are going to do pretty well. We're in a good position and we're going to keep on going."
Guest of honour at the event, Sir Robin Knox Johnston, who established the Clipper Race in 1996, talked of the confidence that participants gained not just in sailing but in life and spoke of the success of the Clipper Race's programme for disadvantaged youth as one of the most satisfying aspects of his venture.
The 12 identical 70-foot yachts in the race are designed by renowned naval architect Tony Castro who runs his own British business out of Southampton. The yachts make up the world's biggest matched fleet of large ocean racing yachts.
Clipper Ventures, the organisers of the race, has established an office in Sydney where they recruit and train crew as well as run corporate sailing programmes.
Nick McInnes, British Consul General and Director General UK Trade and Investment Australia and New Zealand said:
The 2015-16 Clipper Round the World Yacht Race coincides with last month's launch of the Exporting is GREAT campaign. The objective of this is to inspire and support 100,000 additional UK businesses sell their goods and services overseas by 2020. The Clipper Race is a powerful partner in the GREAT campaign which promotes the best of British ingenuity, internationalism and competitiveness around the world.
William Ward, CEO, Clipper Ventures and a GREAT Britain campaign ambassador, commented:
I am very proud that the Clipper Race can showcase the opportunities for UK companies to export overseas….I learned early on that to run a successful business you have got to get out there and try. It might feel like there are too many barriers but you can probably double or even treble your business if you extend beyond your comfort zone. There are markets all over the world that are desperate for something from the UK, the UK brand means quality.
View photos of the GREAT clipper yacht in Sydney
For more information contact:
Annie Galea
Head of Communication
UK Trade and Investment
annie.galea@mobile.ukti.gov.uk
02 8247 2274
Published 18 December 2015