Grant Shapps calls on communities to decide how to spend the rewards of growth
Housing Minister Grant Shapps today called on councils to sit down with residents and decide how to spend the rewards of going for growth. …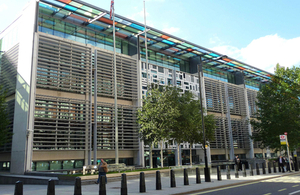 Housing Minister Grant Shapps today called on councils to sit down with residents and decide how to spend the rewards of going for growth.
The Minister confirmed the first cash payments through the New Homes Bonus, totalling almost £200m for areas building new homes.
In a letter to council leaders, Mr Shapps said these powerful incentives have the power to transform housebuilding by encouraging local communities to support rather than resist development - but it is vital that residents now have the opportunity to choose how these building bonuses are spent.
Through the New Homes Bonus the Government will match the council tax raised from new homes for the first six years. The bonus available for an affordable home will be up to 36 per cent more than for a similar market home, equivalent to an extra £350 per house premium every year. Empty properties brought back into use will also receive the cash bonus for six years.
This means councils can receive payments of almost £9,000 on average for each band D home or almost £11,000 for an equivalent affordable home. So if an area increased the number of homes by 1,000 units this could earn a community almost £10m to spend as they see fit - which could deliver a much needed economic boost to their local area at a time when public finances are tight.
Grant Shapps said:
The system where Whitehall told communities what homes they need to build never worked. Housebuilding declined for years, eventually slumping to its lowest peacetime level since 1924. The construction industry suffered terribly, and in many areas plans for new homes created a bitter legacy of divided communities and animosity towards developers.

This country needs more homes, so we need the nation to start building again - but this time with the backing of local communities rather than in the teeth of their opposition. That's why we're giving communities a reason to say yes to new homes through these powerful cash incentives.

But this funding from Government is only the start of the process - it is now essential that councils engage with their local community to decide how the money is spent, so residents feel the direct benefits of growth, rather than extra pressure on local services.
Under the first cash payments for the scheme, 326 local authorities will receive a share of £200m for increasing the effective housing stock by almost 150,000 in 2010-11.
Communities themselves will decide how to spend this extra funding - whether council tax discounts for local residents, boosting frontline services like rubbish collection or providing local facilities like swimming pools and leisure centres.
Notes to editors
The New Homes Bonus is part of the Coalition Agreement and provides incentives for local authorities to deliver sustainable development, including for new homes and businesses. A consultation on the proposals was published on 12 November 2010. In February 2011 the Government published the Final Scheme Design for the New Homes Bonus and this can be found at: www.communities.gov.uk/publications/housing/finalschemedesign.
The long-term demand for housing is strong. Despite this, housing development has consistently fallen over the last decade. On average 26,000 fewer homes were built each year from 1997 to 2009, and in 2009 there were just 118,000 completions, the lowest level of house building in peacetime since 1924.
The previous Government tried to remedy falling levels of housebuilding by using centrally determined housing targets that local authorities and communities had to meet. These failed to deliver the housing this country needs. The Housing and Planning Delivery Grant that was introduced to support targets and improve housing delivery was ineffective and complicated, and local authorities could not rely on it as a sufficient and stable incentive.
A series of recent independent reviews by Sir Michael Lyons, Kate Barker and Professor Michael Ball highlighted the powerful role that local incentives could play in driving housing delivery. The current local government finance system does not provide the right incentive or rewards for councils to build new homes or bring long term empty properties back into use. If a local authority promotes the building of homes in the area it governs, little of the economic gain is captured by the local community. As a result existing residents see only further strain on public services and reduced amenity when new homes are built.
The scheme will provide this incentive and return power back to local communities. Decisions on where and how development occurs will rest locally and ensure that the benefits of growth are returned to communities.
£950m has been set aside over the Spending Review period to get the scheme up and running. In 2011-12 this is £200m and £250m in each of the remaining years. Funding beyond these levels will come from Formula Grant.
Twitter
Keep up to date with the Department by following us on Twitter (external link).
Media enquiries
Visit our newsroom contacts page for media enquiry contact details.
Published 4 April 2011