News story
Graham Ovenden given custodial sentence after reference by Attorney General
Court of Appeal replaces suspended child indecency sentence of Graham Ovenden with one of 27 months custody.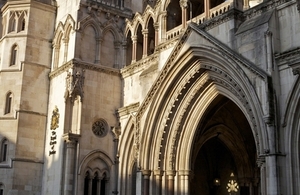 The Court of Appeal has heard the unduly lenient sentence case of Graham Ovenden, the Cornish artist convicted of a total of 6 counts of indecency with children and 1 of indecent assault. On 9 October it quashed the original sentence of 12 months imprisonment, suspended for 2 years and replaced it with one of 27 months custody.
Speaking after the hearing the Attorney General Dominic Grieve QC MP said:
Graham Ovenden committed terrible sexual offences against vulnerable young girls who were in his charge and ought to have felt safe. He manipulated them and abused his position of trust.
The Court of Appeal agrees that the 12 month suspended sentence handed to him was unduly lenient, and I am satisfied they have replaced it with 27 months custody.
It is right that sexual crimes whether committed many years ago or more recently should be punished appropriately. Today the court affirmed this and sent a clear message, that people who have behaved in this way in the past, will face the consequences through the courts.
Published 10 October 2013