Graduating apprentices "the future of the far north"
Eleven young people who have completed their Dounreay apprentice training are "very much a part of the future of the far north."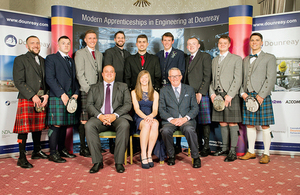 Guest speaker Jamie Stone MP told the audience at the apprentice indenture ceremony that took place last Friday that, as Dounreay continues to decommission, the newly indentured apprentices would be an important part of the area's ability to offer a skilled and innovative workforce.
Dounreay Managing Director and former nuclear industry apprentice Phil Craig added:
"I am very proud that we are celebrating yet another group of talented apprentices. I have worked at a number of sites around the country and I genuinely believe that we have some of the most innovative people in the industry working at Dounreay. For those receiving an indenture, it represents the successful end to an apprenticeship but it is just the start of a career."
The awarding of indentures follows the arrival of 8 new apprentices last week who are setting out on the 4-year structured programme offered by the company. The award winning apprenticeship scheme has trained more than 1,000 local men and women over 6 decades with 35 local people currently enrolled.
Dounreay Site Restoration Limited, a company owned by Cavendish Dounreay Partnership, is responsible for decommissioning the Caithness site on behalf of the Nuclear Decommissioning Authority.
Published 11 September 2017