Graduates offered chance to be part of Dounreay decommissioning
Engineering, science and business graduates are being offered the chance to work on 1 of Europe's most complex closure programmes.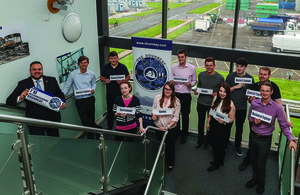 More than 200 people applied last year and now Dounreay is on the lookout for more graduates to join its team.
The site, which was once the UK centre of fast reactor research, is home to 3 different reactors in addition to a range of nuclear material and waste management facilities. Decommissioning is now well underway and an interim end state is due to be reached in the early 2030s.
Graham Cameron, Head of Human Resources, said:
"This is a fantastic opportunity to be part of a unique and technically challenging project. We offer a 2-year structured programme, allowing graduates to gain skills and experience that will put them at the forefront of our industry."
Ashleigh Fenton, who joined the graduate scheme last year as a geologist, added:
"One of the best things about working at Dounreay is that you feel invested in as a person. I have a mentor to help and the opportunity to work towards chartered status. My team and the community have been very welcoming and I would encourage anyone to get involved."
Up to 10 roles will be available at the Caithness site. With a current workforce of around 1,100 in addition to several hundred contractors, Dounreay is close to the well-serviced towns of Thurso and Wick. Famous for its surf breaks and dive sites, miles of track, beaches and rivers – it is perfect for those who thrive in the great outdoors.
Full details, including an application form, are available here. The deadline for applicants is 10 March 2017.
Published 20 February 2017